I'm writing today's Pieday Friday post for two reasons: firstly, it's Glastonbury this weekend and this is a great one-pot campfire recipe for all the family and secondly, it's because hubby and I visited a Chilli Farm this week and bought a big smoked chorizo that we wanted to try! So yesterday we got out our big Delimano cooking pot and set to work on creating a delicious meal that would be equally as yummy made while camping as it would be if cooked at home. In fact, it was such a lovely day that we decided to eat our jambalaya outside and soaked up the evening sun while we tucked in.
This recipe serves four, but our big ceramic pot can hold over 7 litres so we doubled the ingredients and made extra portions to eat cold for a packed lunch the following day. I've made a chicken and chorizo jambalaya but it's easy enough to make it into a veggie dish by taking out the meat and adding a few extra peppers and courgettes. In fact you can throw in any ingredients that you like – prawns are particularly nice!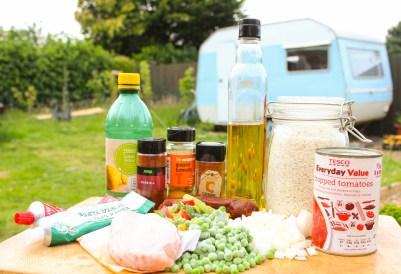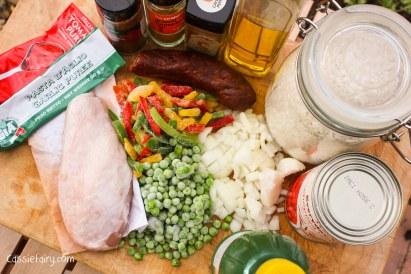 Ingredients to serve 4: 1 tbsp olive oil, 1 large diced chicken breast, 1 diced onion, sliced peppers (I used frozen), 2 garlic crushed cloves (I used 1 tsp garlic paste from a tube), 1 tsp tomato puree, 75g sliced or diced chorizo, 1 tsp cayenne, 1 tsp paprika, 1 tsp turmeric, 250g long grain rice, 400g tin of tomatoes, 400ml chicken stock, splash of lemon juice, handful of frozen peas.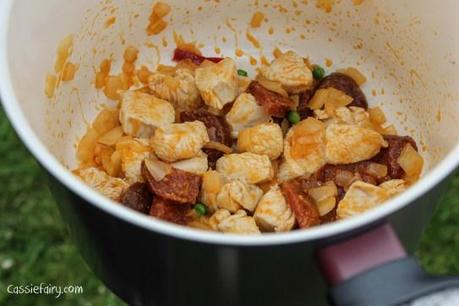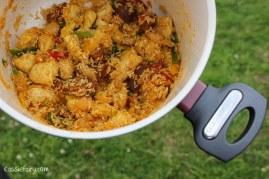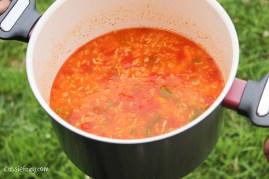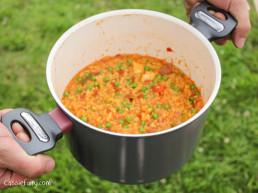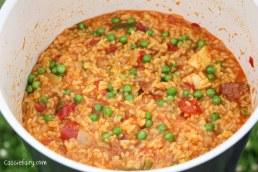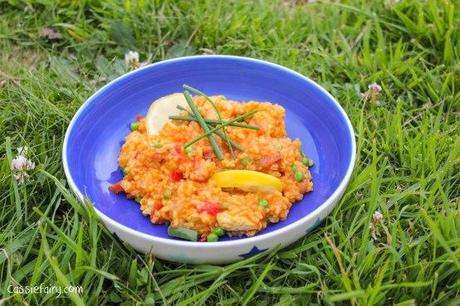 It's a really easy recipe to make in a single pot: brown the chicken and onion in the olive oil for 5-8 minutes until golden. Add the pepper, garlic, chorizo and spices and cook off for 5 minutes before stirring in the rice, tomatoes and chicken stock. Pop the lid onto the pot and simmer for 20-25 minutes until the rice is tender. Check it to make sure that it doesn't dry out and add more stock if needed and once the jambalaya is cooked, throw in a handful of frozen peas before serving. Simple enough to cook on the hob or on a gas stove while camping!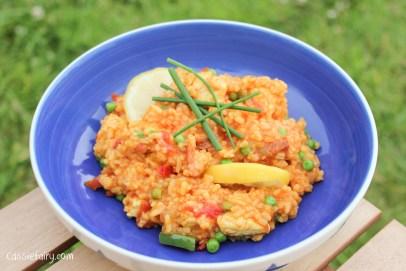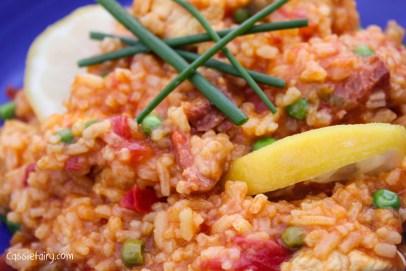 Let me know if you try out this recipe and tweet me photos of your meal to @Cassiefairy. And you can imagine me tucking into my left over jambalaya for my lunch today at 12:30!
Related
Categories: Pieday Friday | Tags: baking, camping, cooking, food, glastonbury, ideas, one-pot, recipe | Permalink.

Cassiefairy blogs about everything she does & anything that inspires her; popular culture, film, art, fashion, recipes, craft and design.