I know you should be getting a recipe post from me this lovely sunny Friday, but it's a big day in the Cassiefairy calendar today – it's the National Blog Awards!  And you'll never guess what I'm going to talk about instead of cakes and pies

Today I wanted to quickly share with you my husband's outfit choice for the big event and start making up for the serious lack of menswear posts on the blog!
I was thrilled when I found out that I could take a guest with me to the awards ceremony. At the Company awards I had to be brave and go in solo (but luckily I had my bestie Laurie Rose from My Blue Rinse blog to cling to!) but this time I will have my husband by my side to make me feel secure and more confident heading into the venue. As my date for the evening hubby will chauffer me to the event, make sure I don't drink too much, keep an eye on whether I have food stuck in my teeth and will make sure I get back home safely afterwards – what a gem of a man he is! I know I won't need to worry about him at all because he's a great conversationalist, super-confident and such a clothes-horse that he'll look amazing in anything. Hence the reason that it was so easy to pick out an outfit for him.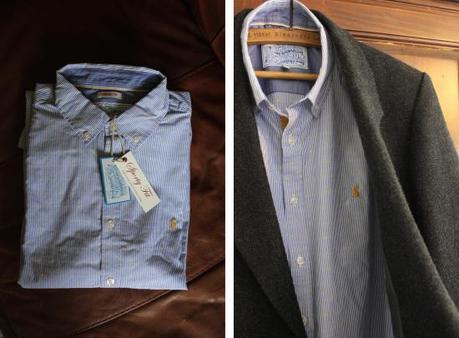 The dress code on the invitation is 'dress to impress' and it's hard to know just how smart or casual to go with it but we've been shopping (yes, he even came with me to choose his own shirt!) and this is the result of a few minutes deliberation – a gorgeous smart Joules shirt. It's probably the most formal shirt in the shop in a pale blue stripe with tiny yellow dots embroidered all over. It looks amazing with his grey tweed blazer and the cut is equally smart when he takes the jacket off. He'll be wearing the personalised cufflinks that I made for his birthday last year and one more possible accessory… I've been eyeing up the yellow lining and now think that it will look even more fabulous with a yellow bow-tie so I've made a last-minute tie purchase, but it's up to hubby whether he chooses to wear it or not. I know he will look fabulous either way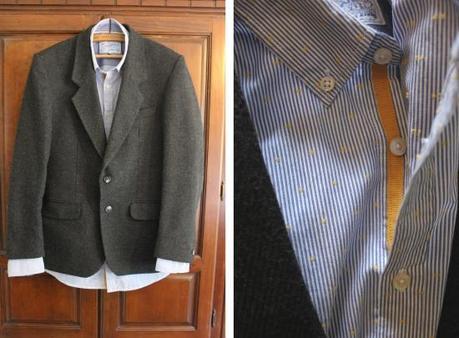 We're heading to the National Blog Awards in a few hours time (so you can imagine how excited I am right now!) and I will tell you all about the event afterwards. Luckily my husband will also be my official photographer, so even though my own photos might be a little squiffy after a glass of champagne, he will still be on hand to capture some lovely shots of the ceremony. Good luck to all the finalists and I can't wait to meet you tonight!
Here's a little Pieday Friday recipe for chilli beef nachos to keep you going until next week (you didn't really think I'd leave it out this week, do you?!):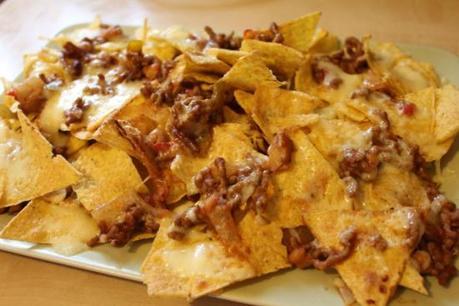 Ingredients: 1 large onion, finely chopped, 500g beef mince, 300g can drained kidney beans, 2 teaspoon of chilli powder, 1 teaspoon garlic powder, 1 teaspoon paprika, 2 tablespoons tomato paste, 1 beef stock cube, handful of coriander leaves.
Sautee the onion in a little Fry Light then add the beef mince and cooked until browned. Sprinkle on the spices and garlic before adding the tomato paste and frying for a minute. Dissolve one beef stock cube in 100ml boiling water and pour into the pan before adding kidney beans. Allow to simmer for 5 minutes and season to taste. Top a bowl of nacho chips with the chilli beef then grate cheese over the top before grilling for a couple of minutes until the cheese has melted. Dig in and add a couple of side dishes of salsa, sour cream and guacamole!
Related
Categories: Events & Entertainment, Pieday Friday, Thrifty Fashion | Tags: fashion, joules, Mens, menswear, national blog awards 2014, outfit, special events | Permalink.

Cassiefairy blogs about everything she does & anything that inspires her; popular culture, film, art, fashion, recipes, craft and design.