This week I'm sharing the easiest ever birthday cake recipe along with a fabulous cookbook & mugs giveaway. Okay, you can probably already see that I didn't really make this cake, I just kind of decorated it but it's my husband's favourite dessert from childhood and I knew it would make his birthday even more special if I recreated the cake. It's super-simple but you won't believe how delicious it is, and here's what makes it special: it's frozen! That's right, it's like an inverse arctic roll! The angel delight sets like strawberry ice cream around the outside of the sponge and it's easy to cut into slices to serve to your guests. Give it a try – I think you'll like it!
You will need: Swiss roll – you can make your own or buy a big one from the supermarket, angel delight, milk, sprinkles, whisk, spatula, cake board, candles.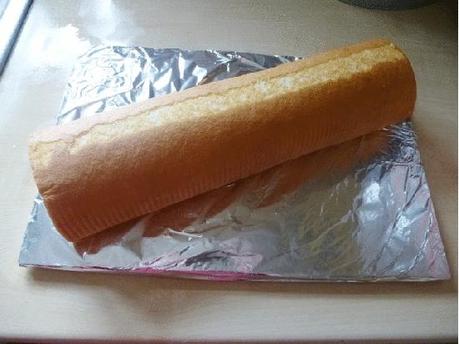 I don't really need to include any steps to make this recipe – just follow the instructions on the packet of strawberry whip and follow the steps in the image above! It's a fab birthday cake for children (or the young at heart!) and you can even make a chocolate version for Christmas – a true frozen chocolate log! Let me know if you have a go and in the meantime, check out my fabulous baking competition where TWO lucky followers will win..!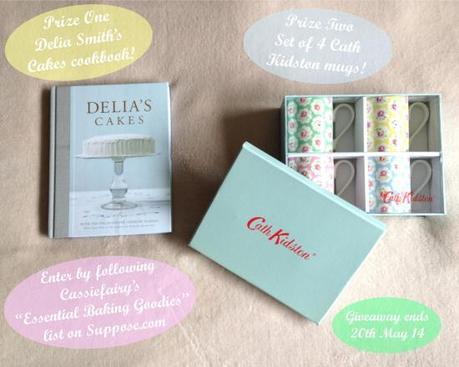 If you like to bake 'proper' cakes yourself, how would you like to win a copy of Delia Smith's Cake cookbook? This prize is up for grabs for one lucky winner, plus there's a second prize for a second winner – a set of 4 Cath Kidston mugs! It's the easiest competition to enter – simply follow my "Essential Baking Goodies" list on Suppose.com – the place to create and share lists of products that you love!
1 x winner for 1 x Delia's Cakes cookbook
1 x winner for 1 x set of Cath Kidston mugs
One winner per prize will be chosen from the all the list's followers on Tuesday 20th May 2014. The winners will be contacted by email directly by Suppose.com and you will need to provide an address for delivery of your prize. And please set up your own lists on Suppose.com - the best place to keep track of your wish-lists, favourite products & shopping lists online - it's great fun!
Good luck everyone!
Related
Categories: Pieday Friday | Tags: birthday, Cake, Cath Kidston, Competition, cooking, delia smith, giveaway, pieday friday, recipe, suppose.com | Permalink.

Author: Cassie Fairy
Cassiefairy blogs about everything she does & anything that inspires her; popular culture, film, art, fashion, recipes, craft and design.