0 Flares
0 Flares
×
New to little Indiana? Subscribe for free to my RSS feed. Thanks for stopping by!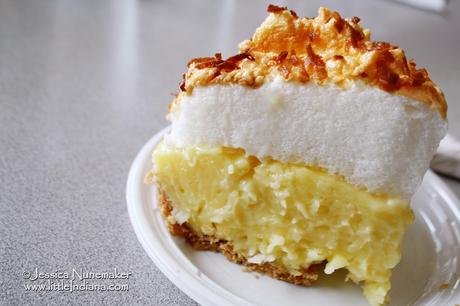 Pie in Indiana
It's March 14 which means one of my favorite days of the year: Pie Day!
I've compiled a list of small Indiana town mom and pops that offer delicious homemade pies. Now, pie is not always on the menu at some of these shops–so call ahead when you can.
Celebrate Pie Day in Indiana
Earl's Dining and Catering
123 W. Main St.
Brook, Indiana 47922
219.275.4445
Klein Brot Haus Bakery
106 East 3rd Street
Brookston, Indiana 47923
765.563.3788
Pier 74 Restaurant and Bar
7380 W 131st place
Cedar Lake, Indiana 46303
219.374.7474
Stone Hearth Cafe
2131 N. Centerville Rd
Centerville, Indiana 47330
765.855.2233
Tonya's Patisserie
321 Broadway
Chesterton Indiana 46304
219.929.1415
Bread Basket Cafe and Bakery
46 S Tennessee Street
Danville, Indiana 46122
317.718.4800
Mayberry Cafe
78 West Main Street
Danville, Indiana 46122
317.745.4067
The Porch Cafe
2411 E Main Street
Danville, Indiana 46122
317.745.5792
The Stone House Restaurant and Bakery
124 East Main Street
Delphi, Indiana 46923
765.564.4663
Five Loaves Bakery and Cafe
106 S. Bill Street
Francesville, Indiana 47946
219.567.2600
Highpoint Orchard
3321 North Old Highway 421
Greensburg, Indiana 47240
812.663.4534
The Good Table Family Restaurant
402 W Seymour St.
Kentland, Indiana 47971
219.474.3245
The Attic & Coffee Mill Cafe
631 West Main Street
Madison, Indiana 47250
812.265.5781
Kinser's Bakery
215 North Main Street
Monticello, Indiana 47960
574.583.9740
Bernie's Barbecue
679 E State Road 135
Morgantown, Indiana 46160
812.597.5921
Amish Acres Threshers Dinner
1234 West Market Street
Nappanee, Indiana 46550
574.773.2011
Fingerhut Bakery
119 Lane Street
North Judson, Indiana 46366
574.896.5937
The Homestead Buttery and Bakery
36 S Ohio Street
PO Box 221
Remington, Indiana 47977
219.261.2138
Clauss Bakery and Cafe
110 W Washington St.
Rensselaer, Indiana 47978
219.866.7970
Flour Mill Bakery, Bulk Foods, and Cheese
6580 W Co Rd 800 N
Rossville, Indiana 46065
765.379.9995
Oak Grove Restaurant
5401 S US Highway 35
Star City, Indiana 46985
574.595.7126
Market Street Grill
90 West Market Street
Wabash, Indiana 46992
260.563.7779
Corner Cup Cafe
600 Roosevelt Road
Walkerton, Indiana 46574
574.586.3010
Find pictures in Indiana on my Flickr photostream or on the new little Indiana Tumblr blog.
Just don't forget to tell 'em that  little Indiana sent you!
Don't miss a moment. Subscribe to little Indiana and receive instant updates to stay on top of everything "little."
little Indiana: Where to Stay, Play, and Eat in Small Towns in Indiana. Discovering Indiana's best small towns! Now get little Indiana on your Kindle.
Targeted. Relevant. Affordable! little Indiana advertising.