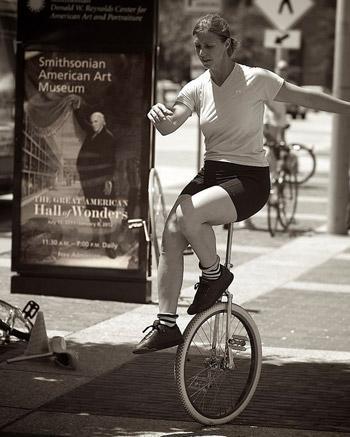 Photo via Flickr. © Pablo Benavente
I can't stop looking at this photo: how perfectly the photographer captured the moment. A woman balances on a unicycle near a poster for The Great American Hall of Wonders, the current exhibition at American Art. The show celebrates invention, as does this photo. Perhaps the choice of black-and-white adds to the old-fashioned flavor of the composition. In the poster, Charles Willson Peale lifts the curtain to reveal the artifacts in his own museum. On the street, an artifact from an earlier time creates a bridge between the exhibition and day-to-day life.
Check out the slideshow of images from The Great American Hall of Wonders, which is on view through January 8, 2012.