This is a kind of hybrid column, half Q&A and half guest post.  A reader sent me the photo below, and wanted to know if I could tell him anything about it (you'll see why he thought I might in a moment).  Well, everything I know about art wouldn't even make a whole column, but the essence of librarianship isn't knowing information directly, but rather knowing where to find it.  So I asked Aspasia Bonasera, who happens to be an art historian in addition to a sex worker, and she provided the analysis below.  I hope you find it as interesting as I did.
In the early eighties I found this de-framed painting in an antique store in Wisconsin.   An older couple who ran the store said it had come up the river from Storyville to Chicago, where they got it in an estate sale, along with its anecdotal provenance.  Seems it was cut from its frame in great hurry, then later "framed" in something that was at some point painted dark brown…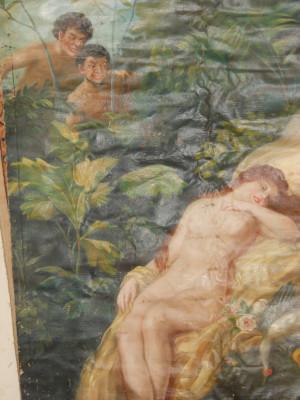 This painting was done in oil on canvas.  Primary colors dominate, though the palette is vibrant; the paint quality is average to maybe slightly above average.  The canvas itself looks to be average quality as well (cotton or low-grade linen), so this painting was either done by an artist without a lot of money to spend on finer, linen canvases or someone who paints as a hobby.  This says to me that it probably wasn't a commission or if it was, it was not commissioned by someone with a lot of money for the project.  Commissions are generally done with the best materials the artist has access to, and it is not unusual for the patron to provide these finer materials.
The painting was originally larger; the female subject's foot is clearly cut off at the bottom of the canvas where it was cut and re-framed.  There could be any number of reasons for this; for example, if the painting was commissioned for one patron but the deal fell through for reasons unknown to us, another patron may have bought it but asked that it be scaled down to fit on their walls.  More than likely, I think this painting was cut and re-sized by the buyer rather than the artist.  So far as I can tell, there is no signature of the artist on the painting, which tells me it may have been located on the bottom of the painting, which has been removed.  If the artist had re-sized/re-framed the painting in his studio, he would have re-signed his creation.
The painting shows a classic Reclining Venus, which was a popular theme in antiquity and Renaissance paintings.  For example, the Venus of Urbino by Titian is a Reclining Venus.  Naturally, this would have been an appropriate subject for a brothel.  The two young men are almost satyr-like, especially their ears, which are almost pointed and their long, drawn faces.  Satyrs were known for their lust and high libidos and were often depicted with women who were equally lusty and wild, especially Maenads.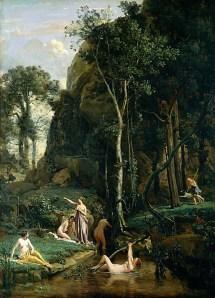 The presence of the men in a voyeuristic pose may also be influence by the Greek myth of the virgin huntress Diana being surprised at her bath by the hunter Actaeon, whom she punished for spying on her nudity by turning him into the very animal he hunts (see also Titian's rendering of that story).  Unlike Diana, however, the woman in this painting, as a representation of Venus/Aphrodite quite enjoys being spied on, though she doesn't make eye contact with the voyeurs but affects an aloofness that probably only intensifies their lust for her.  Appropriate for a sex worker!
The style reminds me the most of French Rococo artists such as Antoine Watteau, Jean-Honoré Fragonard, or François Boucher.  Fragonard and Boucher are known for their erotic arts and voluptuous pastoral scenes.  This painting shows nature as full and sensual and blossoming.  The style, in my opinion, is very strongly influenced by Fragonard, which brings me to a conundrum of my own.  Fragonard was very popular among the French aristocracy in the years leading up to the French Revolution.  When the Revolution occurred, Fragonard fell out of favor (as did Boucher) and his art was forgotten for many years; this included the time period in which Storyville would have existed.  That said, however, Fragonard may have fallen out of favor in mainstream art history, but perhaps he was still remembered among those who were outside of the mainstream, such as those people who still liked the voluptuous and erotic artistic expressions embodied by the Rococo?  Certainly there would have been those among the elite classes of the French Creole in New Orleans who may have had Fragonard paintings (or at least known who he was) and also patronized Storyville.
Obviously without more to go on, this analysis is purely speculative, though based in what I have learned in my course work.  I would love to know more about it, though, as I always love investigating that intersection of sex and art.  If the reader really wants a thorough, in-person investigation, I suggest contacting a gallery that is in New Orleans itself, such as M.S. Rau Antiques; in Chicago, there are a whole bunch of places that could do the job as well.