The following pictures were taken as I deviated around a thunderstorm near the front range of the Colorado Rockies on a flight between Dallas, Ft. Worth, Texas and Portland, Oregon.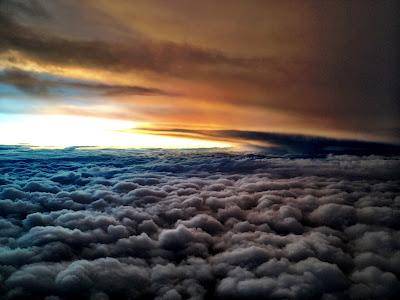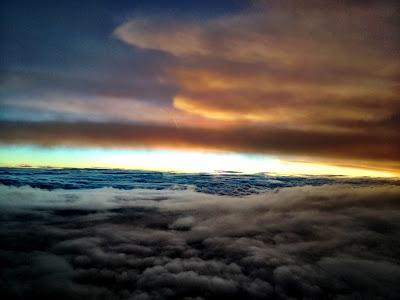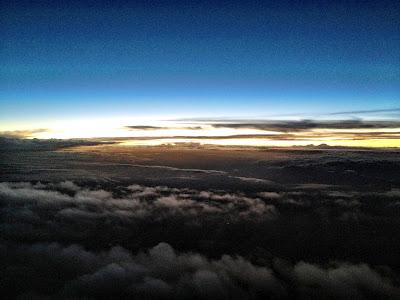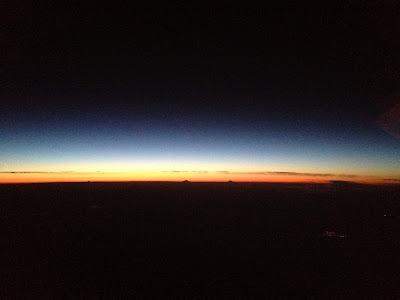 Heading west with the sun setting in the distance, we were on top of a layer of clouds with a large storm just to the north.  In the first picture, you can see the sun reflecting off the overhang that we were just low enough to fly underneath.  The overhang of a thunderstorm can be a dangerous place where turbulence is often found.  However, in this case the wispy nature of the clouds and our distance from the thunderstorm seemed to indicate a safe smooth ride ahead.
The second shot was taken as we passed the storm, not visible in the picture, but about 15 miles off our right wing.  The third shot was taken as we emerged into clear skies.  The clouds in the picture were all well below our altitude, so we were able to continue for a while with the radar turned off.  We were right about the ride and enjoyed a smooth ride and a beautiful view as we continued past the thunderstorm.
The fourth picture was taken some time later.  We were chasing the sun on this flight, so it didn't go down as quickly as it might if we had been flying east.  This last picture was taken about thirty minutes before landing in Portland, Oregon where we spent the night.  Those aren't clouds easing through the horizon, but mountains...probably Mt. Adams, Mt. Hood and Mt. Rainier.
Please forgive the grainy texture...my iPhone was the only camera I had handy and it doesn't seem to take very good low light pictures.