Late last year, foodie cravings was invited to celebrate the start of Summer and the festive season at 140 which was transformed into an urban picnic – a secret garden bursting with treats and cocktails.
My writer Nicola thought 140 Picnic was an absolutely magical night, she enjoyed the intimate picnic dinner under the stars of the Perth city's CBD which was decorated with festive lights, astro turf, potted plants and beautiful flowers. 
She hopes that the creators of the 140 Picnic will bring it back again soon but in the meantime she's written about the picnic baskets by Me and Mabel, the amazing cocktails she enjoyed by Cocktail Gastronomy and her MKR picnic neighbours.
—
At 140 Picnic, I experienced the best of what this incredibly up and coming trendy laneway – a vibrant shopping, entertainment & dining precinct had to offer.
I enjoyed Me and Mabel picnic baskets and amazing cocktails form Cocktail Gastronomy, just a snippet of what was open to the public the following day. Other restaurant and food outlets who were participating as pop up stalls on the next day's 140 Picnic public event included Jamie's Italian, East Village, Brotzeit, BamBamBoo, Ribs and Burgers and Koko Black.
Whilst enjoying a basket filled with goodies by Me and Mabel, I mingled with picnic neighbours MKR finalists Chloe and Kelly from Perth, and also Debra and Eva – long-time foodie cravings followers.
And on the MKR note, finalist and clean eating advocate Luke Hines, took to the center stage with a cooking demo – showing just how easy dessert was to make. The cacao and avocado mousse certainly hit the spot. It was rich, silky and tasted too good to be true.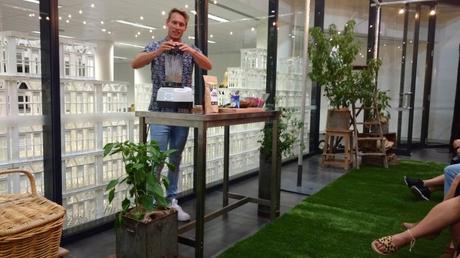 Luke Hines at work.
My first taste of magic was a delicious cocktails from the mixologists at Perth's Cocktail Gastronomy. It was a decadent vodka based cocktails in small 'pop' bottles complete with a red and white stripy straw – the perfect picnic accompaniment.
Perth-based Cocktail Gastronomy are award-winning event specialists with a proven track record of delivering exceptional service and value.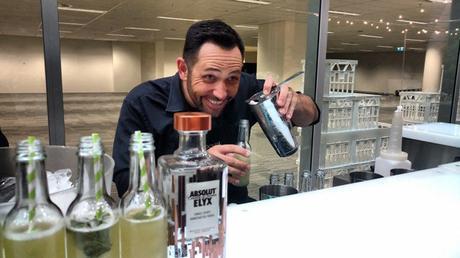 Cocktail expert in action
It seems that the mixologists never create just a simple Mojito or Cosmopolitan, their award-winning mixologists fashion bespoke cocktail creations tailored to individual events.
The piece de résistance of the night (as well as the incredible food, company and atmosphere) had to be the high tea-style cocktail, served in the cutest tea cup and saucer and divine deep purple macaroon. A delicious gin and green tea infused concoction, poured by the bartenders from what looked like a steaming stainless steel teapot (of dry ice). Such theater and added to the magical effect of the night.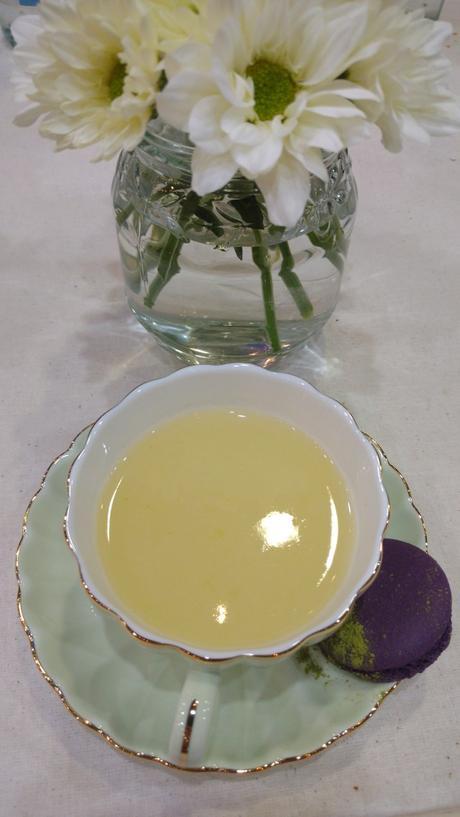 Upon taking our random seats at the long table which held no more than 30 people an array of picnic baskets – designed to share between two people were promptly brought out.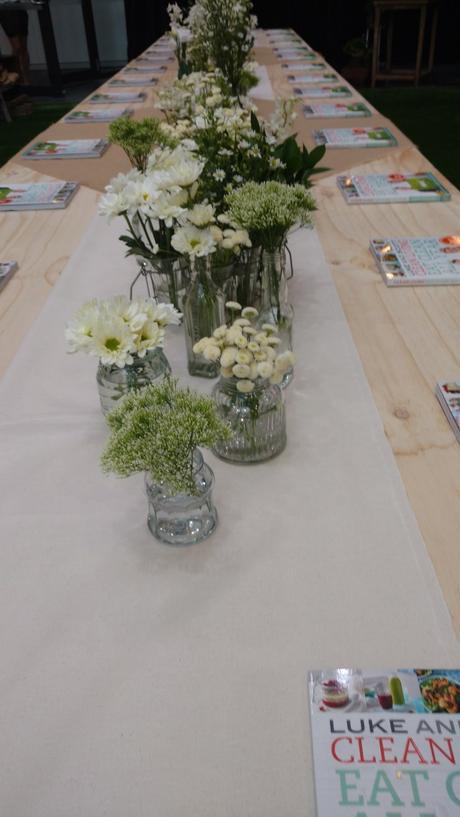 Decorative picnic table
There was a great excitement in the air as everyone delved into their wicker hampers – wonderfully created by Me & Mabel – a picnic basket catering company that focusses solely on good food made from scratch.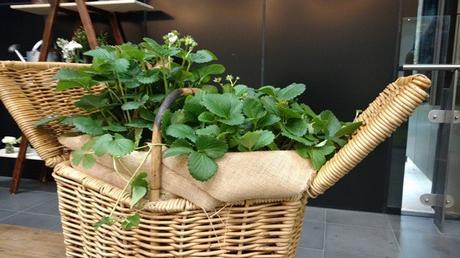 Gorgeous picnic baskets
Each food item was individually wrapped in brown paper and dollies with hand-written labels, tied with string – such a gorgeous personal touch.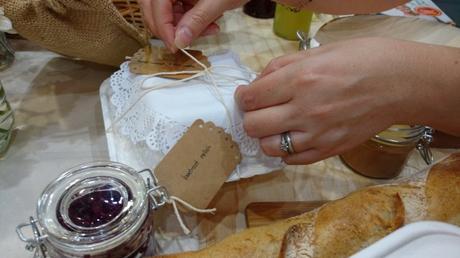 Pretty packaged goodies waiting to be opened.
A delicious rustic baguette, individual glass jars of chicken liver pate and beetroot relish, paper wrapped brie, a couple of boxed salads, smoked salmon and the most incredible roast vegetable terrine with cashew nut cheese (the standout picnic dish of the night!).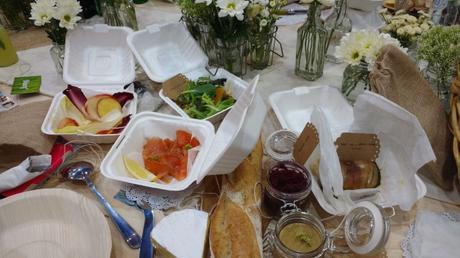 A feast of picnic delights!
The baskets were equipped with eco-friendly paper plates and an array of mis-matched shabby chic cutlery.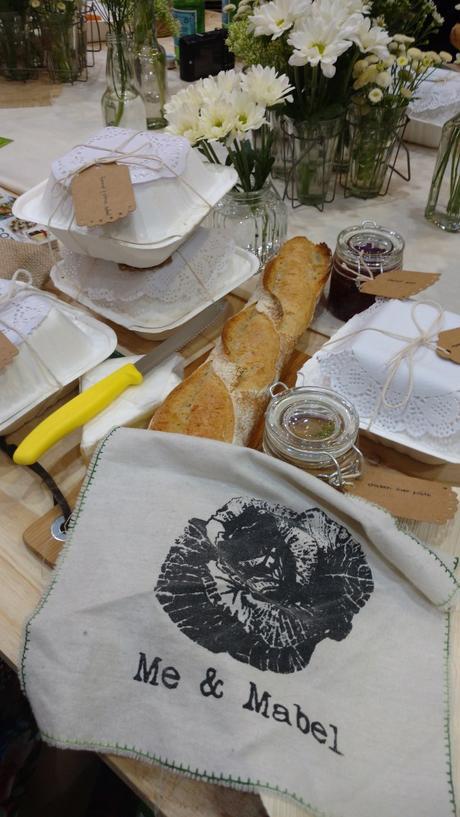 Personal touches from Mabel and Co.
Wendy Marinich, of Me and Mabel, said about her company said: "I wanted the food to stand out from the norm and stay true to our ethics. We looked for compostable environmentally conscious packaging and created aesthetics that would work in with wedding styles as well as other events."
The individual salad boxes were a joy to open: Fennel and citrus salad, nectarine and goats cheese salad – were bursting with color and flavor. They certainly put any ordinary picnic potato salad or green salad to shame!
Wendy added: "We now offer cocktail and long table style catering still following our same 'from scratch' method and still using the most amazing well treated produce we can find in Perth."

Chatting to my fellow picnic neighbours, MKR finalists Chloe and Kelly, who were both in awe of the food and setting, the cheese and smoked salmon were definitely a hit.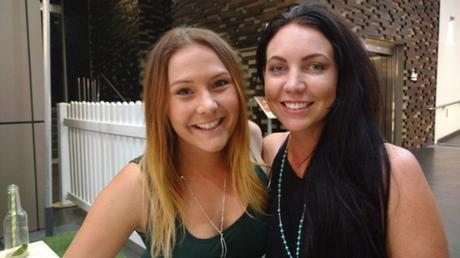 Conversation flowed in what was a fantastic friendly atmosphere – everyone buzzing about the food and the setting.
Other MKR finalists Debra and Eva – long term followers of foodie cravings – raved about their favorite dish of the night – the roast vegetable terrine. Thin slices of eggplant, roast red pepper and pumpkin, held together by the creamiest cashew nut cheese. It was a complete winner – I loved it.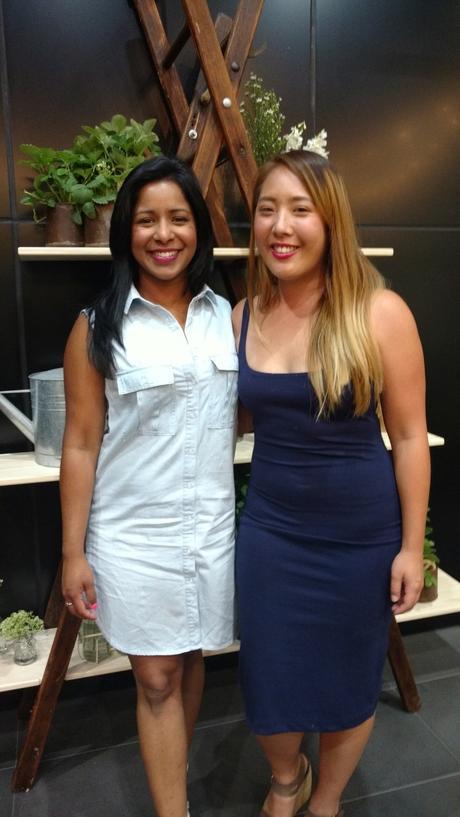 MKR's Eva and Debra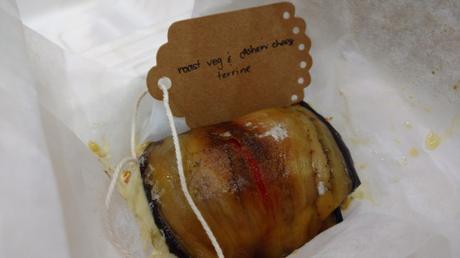 My favorite dish.
All the MKR girls are certainly looking forward to the next season of My Kitchen Rules – which starts again next month. It will be great to see the next set of personalities on the show – as well as the cooking!
This intimate urban picnic was a real treat and a real pleasure, something quite memorable.
As for the next day, the laneways were brought alive – transformed into family friendly party. The CBD became a playground with deck chairs, bunting, games, live music and pop up food stalls – all sharing their delights.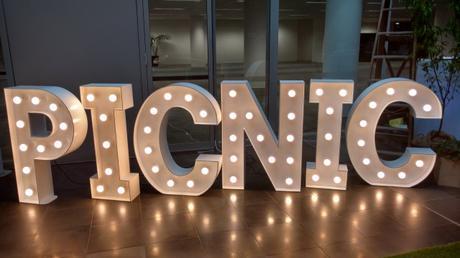 Festive lights
Think outside the wicker basket – picnics don't have to be confined to parks or the beach – they are about bringing people and places together, transforming an area and sharing!
And let's hope that the people behind the scenes of 140 Picnic want to create it all for the people of Perth again!
Disclaimer: foodie cravings was invited as a guest of 140. See disclosure policy for more details.