Welcome, gentle readers, to this triple-pickle-packed feast of Saturday bloggery. Yum, you say, and you are absolutely right. Dip in, no standing on ceremony...
Firstly, a nod to a dog. Who remembers that just prior to the 1966 World Cup, someone stole the Jules Rimet Trophy? And that Pickles, a black and white collie, found it? Here's the lowdown:England was hosting the tournament for the first time. The Royal Mail planned a set of commemorative postage stamps and Stanley Gibbons, the leading philatelic collectibles and trading company, asked the FA for permission to display the Jules Rimet trophy at its Stampex event at Westminster Central Hall in London just weeks before the tournament. Permission was granted on condition that it was guarded at all times and the trophy proved a major attraction, with uniformed officers and two plainclothes policemen in attendance during the exhibition. However, during a brief downtime on a Sunday, someone broke into the trophy cabinet and spirited the trophy away unseen. Scotland Yard and the Flying Squad were assigned to the high-profile robbery. The following day the Chairman of the FA received an anonymous phone call and a ransom demand for £15,000, which turned out to be a hoax. With no trail to follow, the police were flummoxed (in the jargon of the time).A week later, a Mr Corbett returning from walking his dog in south London was surprised when said dog went rooting under a suburban hedge and began to get very excited. There was an object secreted under the privet, wrapped in newspaper and tied up with string. It was only the stolen Jules Rimet trophy! Mr Corbett handed it in at his local police station and someone from the FA came down and identified the cup. Mr Corbett was initially held on suspicion of the theft, but he had a solid alibi and no known connection to the criminal underworld, so he was free to go. The story of the recovery of the World Cup hit press, radio and TV and Pickles became a celebrity.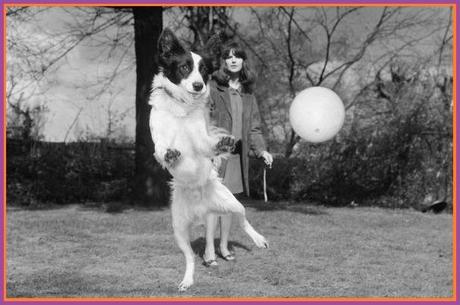 Pickles - the dog who found the World Cup (and Mrs Corbett)
He was regularly on TV news programmes and in the popular papers through the summer of 1966 and went on to appear in several films, including '
The Spy With A Cold Nose
' with Eric Sykes and June Whitfield. He was also named Dog of the Year for 1966. Mr Corbett attended the players' celebration dinner after England won the final in July. He also received a financial reward, not all of which was spent on dog biscuits. 
If anyone is interested further, investigative journalist Tom Pettifor managed to identify the real culprit in 2018, a London gangster named Sidney Cugullere. The details are available in an Apple podcast titled '
Stealing Victory
'. Mr Cugullere wittily claimed to have been the first Englishman to lift the famous trophy. As for Pickles, he met an untimely end in 1967, strangled by his choke chain lead when it caught on a tree branch while he was chasing a cat. He was buried in the Corbetts' back garden and his collar is on display at the National Football Museum.
Secondly, let's hear it for the Pickle Sisters, a spoof 1920s vaudeville act. They became an Instagram and Twitter sensation during Covid-19, based on the cleverly staged photograph below, and people had a lot of fun inventing their backstory: real names (Olga, Opal, Suzy, Zelda), stage names (Cornichon, Dilly, Gherkin, Ogorki), home town (Picklesburgh PA), songs ("
A Nickel For A Pickle
", "
Any Way You Slice It
", "
Cucumbers Are A Girl's Best Friend
"), attesting to the craze they started for cucumberware clothing and vinegar baths. All total nonsense as far as I can make out - they never existed -  but charming nonsense nonetheless. Blame lockdown.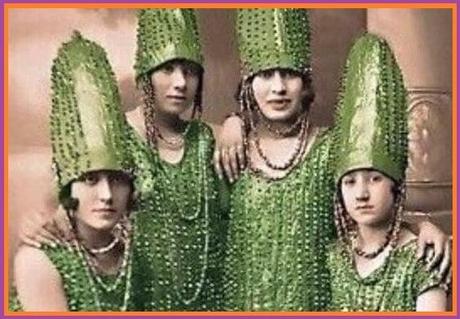 the incredible, inedible Pickle Sisters
What I didn't know, until researching for this blog and stumbling upon our ladies of the cucumber, is that pickle sisters is apparently urban slang for women who have slept with the same man (though not necessarily at the same time). I imagine that if Olga, Opal, Suzy and Zelda had enjoyed the same fellow (just look at their cool-as expressions), it would almost certainly have been their impresario/manager. But enough of such nonsense.
Thirdly, I nominated this week's theme because I love pickles. I don't just mean those ubiquitous cucumber ones in a jar of vinegar, though dill pickle does go well with a cheeseburger or a deli sandwich. I mean properly exotic and spicy pickles conjured from a variety of fruit, nuts or vegetables with the addition of vinegar and/or brine, mustard seed, chillis, olive oil, paprika, cumin, fenugreek, black peppercorns, cinnamon, mace or cardamom.
Pickling began in Mesopotamia around 4,500 years ago as a process of extending the life of seasonal produce by anaerobic fermentation in brine or immersion in vinegar and yes, cucumbers were among the first vegetables to be pickled. The practice spread from the Middle East through the Mediterranean to Spain and along the silk route to Asia. Although intended originally as a means of preservation for out-of-season consumption, pickles soon came to be enjoyed simply for the taste on a year-round basis. By the way, our word 'pickle' (first found in English around 1400) derives from the Dutch word for brine - pekel.
As an aspiring connoisseur of world pickles, these are the varieties that I can claim to have sampled: artichoke, aubergine, beetroot, cabbage, courgette, gherkin, ginger, gooseberry, green bean, lemon, lime, mango, onion, pepper, radish and walnut. I like the complex, sour and tangy taste on the palate. Pickles can be enjoyed as an accompaniment to other foods (lime pickle with curry is a must for me) or as a treat in themselves. I maintain there is nothing finer as an hors d'oeuvre than a small bowl of assorted pickles.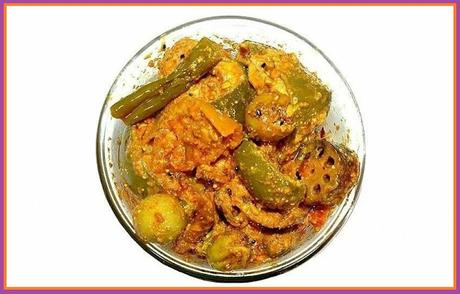 assorted yummy pickles
I haven't completed the intended poem to my satisfaction yet, so am posting the blog without it and will edit to add as soon as it's finished...
Little Dish Of Pickles
(tbc...)
Thanks as ever for reading, S ;-)

Email This
BlogThis!
Share to Twitter
Share to Facebook