There were no pickles in our kitchen when I was growing up. Pickles were never on the menu. I'm not even sure if I knew what a pickle was until I was nearly grown, all because of my mother.
My mother always said she hated pickles because in her youth she had worked in a pickle factory. The name of this infamous factory was never disclosed and sadly she is no longer with us, so I can't ask her. When I sat down to write this, curiosity got the better of me. It sent me off on a roller coaster of a quest to figure out where my mother might have worked, and possibly what she would have experienced in the world of transformed cucumbers.
Well, at the time in the 1940s, she was living in the Western suburbs of Chicago in Wheaton, Illinois. No factories on the Internet could be found in my laboursome trawl. However I did discover the nearby town of St Charles was called the Pickle Capital of the World; it held this title for 40 years thanks to Pickle Packers International making it their national headquarters from 1968 – 2004. Now who would have thought? Especially since pickles were never packaged there.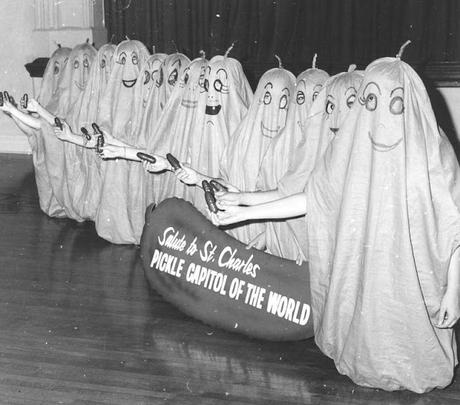 Photo credit: www.kombrink.com
After learning this fascinating titbit of information, I was no closer to finding out where my mother worked and after flying through more cyberspace I still couldn't figure it out. But I did discover other interesting facts.
The Budlong Pickle Company was based on the outskirts of Chicago. It was founded in the 1850s, built on a large farm that grew loads of cucumbers. The factory even had its own special 'pickle train' that ran on the Chicago and North Western line collecting employees. This would have run through the town my mother lived, but wrong era. Not long after, by the late 1800s, Chicago was the American pickle industry hub.
Another fun fact, my mother would most likely have packed her pickles in jars manufactured in Alton, Illinois. From 1929 – 1983 the Owens – Illinois Glass Company was the world's largest glass producing factory.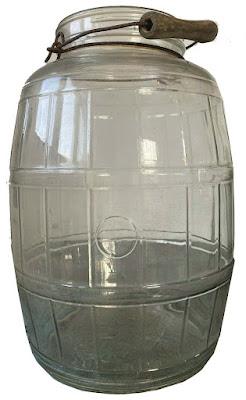 I suspect my mother's dislike for pickles was the vinegary smell, however I'll never know. What I do know is this. Fast forward several decades. My son was three and went through a period of insisting on being self-sufficient and getting his own breakfast. He'd get up early, go to the refrigerator and grab the jar of pickles. He couldn't get them at grandma's.
And now, more than a quarter of a century on, empty nested I sit at my computer on the Fylde Coast in England reading about Bartons, a pickle factory in St Helens, near Liverpool established in 1905. It's still going strong. I wonder where their jars are made and if their employees eat pickles?
In honor of all this pickle talk, here's my poetic contribution written a number of years ago.
Pickle
I have a little pickle,
it is bumpy and it's green.
I'll wash it in a bowl
and I'll make it nice and clean.
Silly, pickles don't need washing,
they come packaged in a jar.
So instead, I'll take it out
and I'll put it in the car.
I'll strap it in beside me
it will have a special seat
and will be my friend forever
till I need something to eat.
Thank you for reading.
Kate đŸ˜€

Email This
BlogThis!
Share to Twitter
Share to Facebook