Favored shades for 2016 range from pretty pastel and faded hues to bold and hot colors. Trending patterns take inspiration from traditional to daring themes. Pairing mismatched tops and bottoms is the latest rage. So much fashion diversity allows all plus-size women to choose Swimsuits Direct styles that satisfy their unique preferences from subdued class to innovative chic.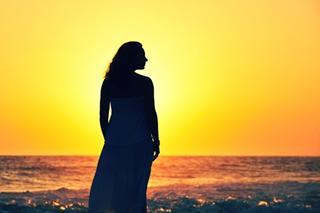 Lighter Hues
Want to show off a fabulous tan? Select a nude-colored, white, or muted swimsuit to contrast with bronzed skin. The timeless beauty of sparkling white remains an eternal favorite. This pale pink ruffled bandeau tankini is an elegant nod to pastel femininity. Other soft tints are light lavender, tranquil blue, and minty green. Faded corals and burgundies also are on trend this year.
Brighter Shades
Many women think dark swimsuits look the most becoming. Not so. When revealing extra skin, choose flattering colors. Complement auburn hair, for example, with striking aqua or green. Strong, bold, bright intensities run from electric blue to turquoise. Representing precious gemstones, emerald, ruby, and sapphire bring glamor and sophistication to the seashore. Sporty chic styles' vivid color blocks deserve great receptions.
Hot pink is turning up passions for seasonal indulgences. Strike a confident pose in this fuchsia shirred tankini, brandishing a vibrancy that's sure to evoke compliments. Warm up beaches with blazing hot and neon bursts of sunny orange, yellow, and golden tones. Some designers are mingling them in various shades with unusual transitions to celebrate summertime's long-awaited arrival. For poolside pizzazz, showcase metallic bronze, gold, or silver sheens.
Fun Patterns
Print swimsuits are flooding beach catwalks. Classic looks boast polka dot, floral, nautical, and tropical motifs. This flowery one-piece bandeau will set the mood for your next island getaway. Or be adventurous in edgier styles displaying animal, military, ethnic, abstract, and geometric patterns. Cool, energizing shapes with quirky color splashes turns beachwear into artwork. Some chevron patterns like this one-piece zigzagged halter make your torso seem longer and leaner.
Straps and bands are weaving intricate designs with skin peeking through those alluring details in unexpected neutral shades. Options span from conservative to wild. A shy minimalist might choose a bandeau top featuring a solid front and laced-up back. But if you're more audacious, make a brazen entrance with crisscrosses from neckline to hips.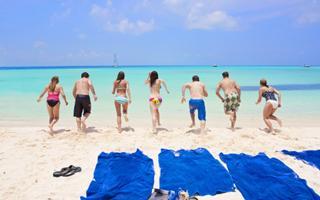 Mixing Pieces
Swim tops and bottoms with different appearances emerged from fashion novelties to summer 2015 trends. This year strengthens that combo style's popularity. It's the ideal solution for women with disproportionate body shapes. Just choose the best individual size for each unique-looking piece. These guidelines will help you
mix and match
separate halves to show off your personal style:
Combine two solids in related hues: Pick a dominant shade for your top to draw attention upward. Maybe single out similar variations from one color family like cobalt blue and teal. Perhaps select analogous dyes that are color wheel adjacent like this scarlet red bandeau top and high-rise amethyst purple bottom. Or make a bold choice with opposite yet complementary tones. A vivid orange top and cornflower blue bottom will pop on sunny afternoons.
Wear two different patterns: This daring option requires careful selection. Pair a vibrant print with a subtle pattern. They should share one or more common colors. For example, match a red, plum, white, and black abstract top with a white and black striped bottom. With just neutral tones on the second piece, this dual-motif combination won't appear too busy.
Blend print and solid halves: Choose a patterned piece first. Repeat one featured hue as the other half's solid. The decorative fabric will be the most noticeable, so wear it on the body area that's your better asset. If your bust is enviable, for example, pair a multi-tinted top with a single-colored bottom. Harmonize a violet, topaz, and emerald polka dot upper with any matching jewel tone below. To create your own jungle-themed mix-and-match look, team this animal print bandeau top with this black high-rise shirred bottom.
Coordinate merged cuts: Two-piece swimwear comes in a wide assortment of styles. But intermingling certain halves can create unbecoming fashion statements. Wearing a tankini top with boy shorts when both are long will produce an outdated impression resembling conservative Victorian-era bathing suits. A tankini top and bikini bottom or a halter top and boy shorts will look better.