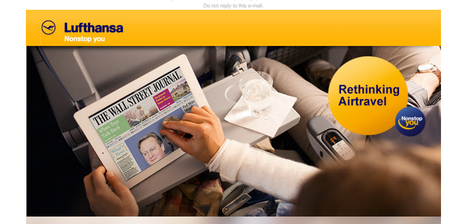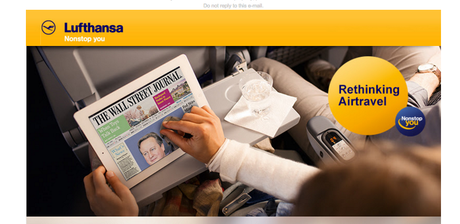 Just got a notification from my airline of choice, Lufthansa, that I can now download my favorite newspaper or magazine to read during flight.
Highlight:
Thanks to free eJournals you can have a variety of up-to-date newspapers and magazines within reach at all times. 
Lots of newspapers and magazines in various languages and of various kinds are now available as free eJournals. You can download them easily to your smartphone, tablet or laptop before your flight, so that your travel reading is to hand before, during and after your flight in a space-saving and convenient way.
For More:
https://www.lufthansa.com/online/myportal/lh/de/flight_services/ejournals?l=en
Lufthansa is one of the few remaining airlines that still stocks both its gates and planes with a variety of newspapers and magazines.  Passengers in business class know that the flight attendant will walk down the cabin offering printed newspapers and magazines, including those published at destination.
I wonder if with this new program of e-journals, Lufthansa will contemplate stopping distribution of those printed publications.
Stay tuned.
TheMarioBlog post # 2089
Please enable JavaScript to view the
comments powered by Disqus.
comments powered by

Disqus