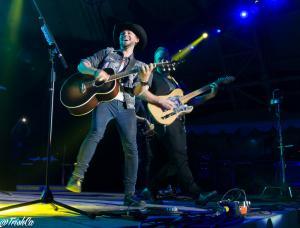 Brett Kissel is a busy man.
He's got a brand new album (Pick Me Up) coming to the world on September 11, 2015 – he's got baby #1 on the way with his wife Cecilia – he's up for 4 awards at the upcoming CCMAs (Male Artist of the Year, Single of the Year: 3, 2, 1, Video of the Year: Tough People Do, Interactive Artist of the Year) – and judging by his performance at the CNE on Wednesday night, he's showing no signs of slowing down.
It's been a bit since we saw Brett up on stage last (Boots & Hearts 2014) so to say that we were excited for the chance to see him get up and do it all again would be an understatement.
And we weren't disappointed.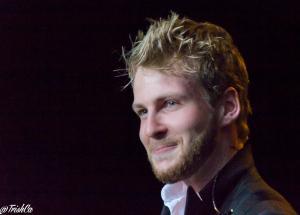 In the middle of the week Brett took over the bandshell stage and banged out a 20 song set with a pile of enthusiasm and energy – and a couple of surprises along the way.
His first special guest won season 2 of TV's La Voix had been on the stage earlier in the evening. Yoan did a great job opening the show with his blend of original songs (Goodbye Mother) and classic covers (Waylon Jennings, CCR) that featured his super deep voice and increasing grasp of English. And on stage with Brett he did the same as the pair dueted on Waylon's Good Hearted Woman
After Yoan, the set turned back to Brett and the band as they peeled off covers of Garth Brooks, Alabama, John Denver, and Andy Grammer to go along with 2 tracks from that upcoming album (Pick Me Up & Airwaves) and one of his biggest hits to date, 3, 2, 1 before we got surprise #2.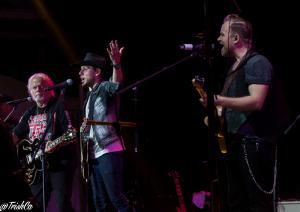 And after those half a dozen songs,  Kissel introduced Canadian Music Hall of Famer, legend and The Guess Who and Bachman – Turner Overdrive alumni, Randy Bachman and welcoming him to the stage for a fantastic rendition of BTO's classic Takin' Care Of Business. Bachman was fantastic with his guitar and on the mic, turning back the clock and leading the band and crowd through the 1974 hit. And for the first time (but hopefully not the last) we got to hear a fiddle solo in the middle of the song.  
Note: Takin' Care Of Business was great, but our favorite cover of the night was Walk The Moon's Shut Up And Dance!
While the surprises were great – this was definently a Brett Kissel concert. From opening the show with Girl In A Cowboy Hat to unveiling a new t-shirt during Canadian Kid (we love the shirts tagline… 5% Beer & Canadian Girls) to ending the set with Started With A Song – Brett was 100% on.
And while he smiled and sweat and worked the crowd, they cheered and sang and clapped along. The only thing we aren't sure about was Kissel's declaration that the Toronto Maple Leafs would make the playoffs this season. But good on him for giving the local fans something extra to cheer about.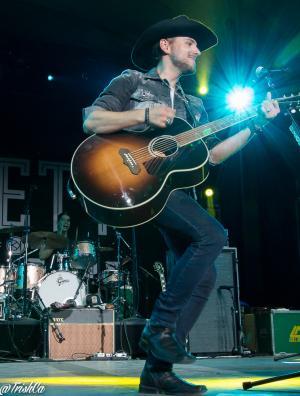 Note: Our favorite thing Brett said came med-way through the show when he invited everyone to get their phones out to take pictures and videos and snapchats. It went something like this…
You know when you look at a ticket stub from a concert and it says no cameras, no videos, no flash photography? That's bullshit. I hate that. Take as many pictures and videos as you want!
As the set finished and Brett said goodnight, he invited everyone to the merch table where he promised to take selfies all night… but then, he came back for an encore and told the crowd that they'd put him in a rock and roll mood so they were going to play a rock and roll song. And they did. And we all sang along to Livin' On A Prayer!
Big love to Brett who continues to grow as an entertainer. We can't wait for the new album (and the Hunter Hayes duet on I Can Play Guitar) and to see where his career goes next.
Check out the set list, more pics and stay tuned because we're working on some special ideas for the pretty near future!
Brett Kissel CNE Set List

 Girl In A Cowboy Hat


 I Can Play Guitar


 Canadian Kid


 Something You Just Don't Forget


 Tough Times Don't Last


 Check Yes Or No


 Cool With That


 Good Hearted Woman (with Yoan)


 Callin' Baton Rouge


 I'm In A Hurry


 Pick Me Up


 Airwaves


 3, 2, 1


 Thank God I'm A Country Boy/ Honey I'm Good


 Takin' Care Of Business (with Randy Bachman)


 Shut Up And Dance


 Raise Your Glass/ Pour Some Sugar On Me


 We Will Rock You


 Started With A Song
Encore


 Livin' On A Prayer