It's been an amazing ride for Brett Kissel since it all started with a song… and now he's back with new music for country music fans in Canada, and his growing fan base in the United States.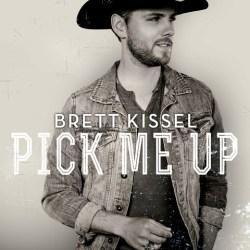 Pick Me Up marks Kissel's 2nd full length label album and offers 11 new tracks, including work with Hunter Hayes and Carolyn Dawn Johnson – and the 1st single (already in the Top 10) Airwaves is a great preview of what you can expect from the full offering. It's been on the radio, the video is all over the place, and it was a great choice to lead off the album. It's catchy and fun and fans are already singing along at live shows – and in their cars and houses and offices (sorry team).
Brett Kissel is young, energetic, talented, and loves country music. He counts George Strait as one of his favourites so it makes sense that he name dropped The King in the lyrics to Cool With That. It's a fun track that may not be the next single (our choice would be Pick Me Up) but will inspire some singing along with the radio and could certainly extend that run of Top 10 hits for the rancher from Flat Lake, Alberta.
Note: We got to see Brett play 4 of the new songs (Pick Me Up, Airwaves, Cool With That, I Can Play Guitar) as part of this recent show at Toronto's CNE. They sound just as good live as they do on the new record… and those performances are only going to get better!
While we all love the uptempo songs, the ones that make us want to dance, be prepared for Brett to slow things down on this record as well. Feet Back On The Ground and Why Won't You are both excellent examples of Kissel being able to take things in a slightly different direction. These are the kinds of songs that bring people back to their own memories and emotions and make those real connections that we all love country music for.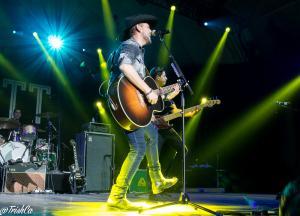 And then there's I Can Play Guitar with Hunter Hayes… Hayes handles some impressive guitar duties on the track – showing off the skills that we've seen in the past in his own music, while Kissel sings about learning to play for all of the reasons guys have always used: Girls, popularity, and to be the life of the party. It's a fun track, should be released as a single, and when it comes time for that US exposure, having Hunter Hayes attached won't hurt at all.
It always saves me when it comes to the ladies, I've never been great with words, but when I open up my case and tear the roof off the place, my guitar does the talking to all the pretty girls. – I Can Play Guitar
In the new world of music, where it seems that albums have a shorter shelf life and fewer singles hit the scene, this record could be an exception for Kissel. We have no trouble believing that Pick Me Up could offer 5 Top 10 singles, matching the output from Started With A Song. Airwaves is already there and Cool With That, Pick Me Up, I Can Play Guitar, and Feet Back On The Ground could get there too. And hey, we aren't perfect, there could be another track to sneak in and get some glory on the charts too.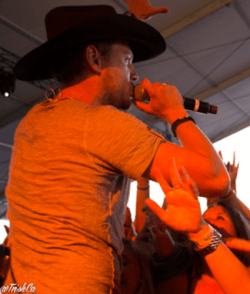 At just 25 years old Brett Kissel is really getting into his career in country music. He's fantastic on stage, loves his fans, is up for 4 CCMAs (Male Artist of the Year, Single of the Year: 3, 2, 1, Video of the Year: Tough People Do, Interactive Artist of the Year) to go along with the 4 CCMAs and the Juno that are already on his mantel, recently played the Grand Ole Opry for the first time, and has a bright, bright future ahead of him!
The next step in that future is Pick Me Up – the record drops on Friday, September 11, and you can get your pre-order in now on iTunes and find Brett online at these fine locations…
Website: www.brettkissel.com
Facebook: Brett Kissel
Twitter: @BrettKissel
Instagram: @BrettKissel
YouTube: Brett Kissel
iTunes: Brett Kissel
Brett Kissel – Pick Me Up track listing
01. Pick Me Up
02. Airwaves
03. Cool With That
04. Feet Back On The Ground
05. I Can Play Guitar (with Hunter Hayes)
06. She's Desire
07. Why Won't You
08. I Hope It's Me
09. That's Why God Made Guitars
10. I Didn't Fall In Love With Your Hair (with Carolyn Dawn Johnson)
11. I'll Fight For You
Thanks to Warner Music Canada we can all listen to Pick Me Up until release day right here – right now!