I was very surprised to find I had been short listed for not 1 but 2 awards with The Brilliance In Blogging awards.
After more than 12,000 nominations to be short listed down to just 20 in 2 categories is quite amazing. I am honoured and very touched, this means more to me than actually winning, as I know my blog is helping others.
I often get asked why I do what I do, why do I spend so much of my own time helping others and that answer is simple, I made a promise to myself many years ago, that if something good could come from something so bad, then my years spent living in fear, heartache and pain were well spent. I wanted to ensure no other mom would ever feel as alone as I once did. That is why I do what I do.
To inspire others to know despite hardships, mental illness, abuse and the many other obstacles life throws at us, these nightmares do not effect our ability to be a great mom. I have met so many inspirational mums during my last 2 years online and I believe it is they who deserves the recognition, I just provide the place for them to unload too.
While winning is not important of course I would love too, who wouldn't. After so much negativity and criticism it would be great to be able to stick 2 fingers up and say – "Shove That In Ya Face".
So if if my blog has inspired you in any way at all I ask that you take just 2 seconds to tick a little box and vote for me – the 2nd award is for outstanding blog which I know I do not deserve as I have not been blogging long enough yet and the others in the category deserve that title more than I do.
So this si where I wave my hands in the air and jump up and down and shout " Pick Me, Pick Me"
So I ask you " Have you picked me yet"?
Come on I have made it very simple for you -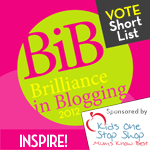 Click To Vote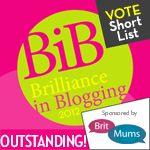 Click To Vote
A sincere thank you to all who have voted for me and to those who do. xxx