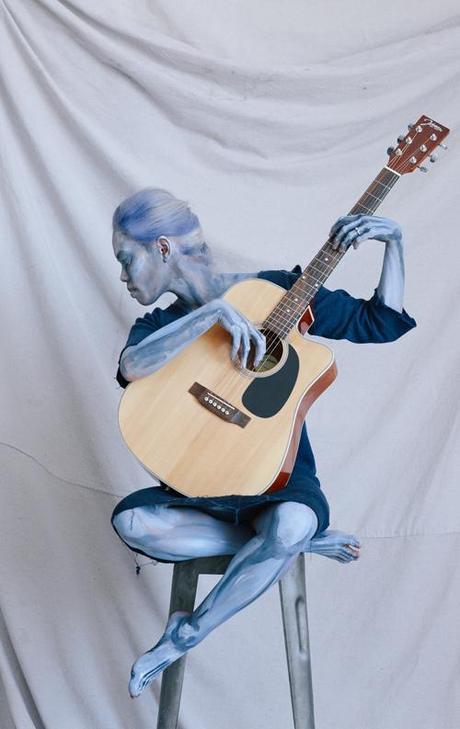 When you think of Picasso what style do you think of? He was so prolific and touched on nearly every style that it's hard to nail one down, but I tend to think of his blue period, because it was so uniquely his. It lasted only three years, 1901-04, but it so melancholically gorgeous with subjects painted in moody blues and greens. 
We thought his
Old Guitarist
would be the perfect costume for our Tortured Artist Halloween party as the character both creepy and recognizable. Plus, the costume is SUPER easy and cheap! The trick is in the body painting and luckily, we had Rubie Huber, who does make up for films and commercials, come and show us how it's done.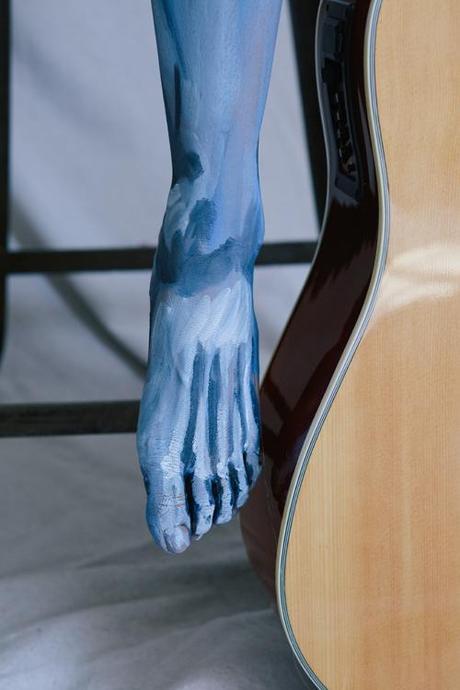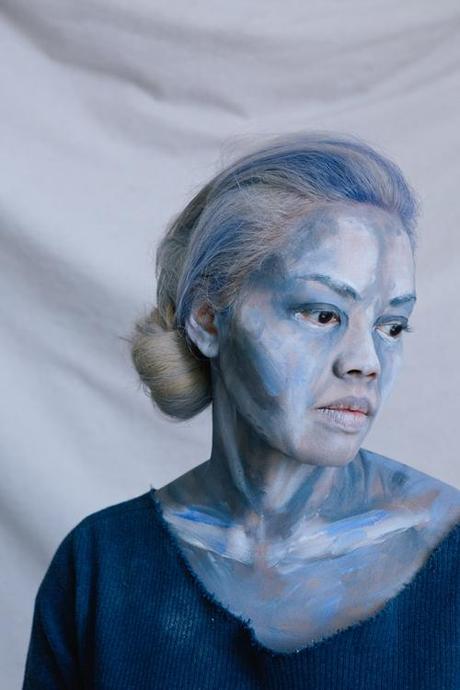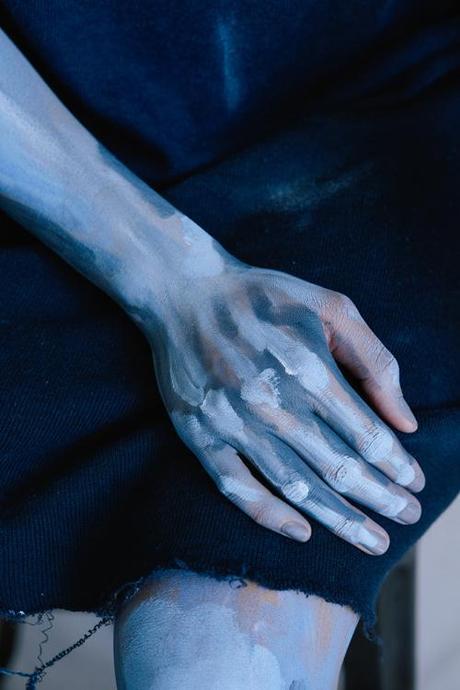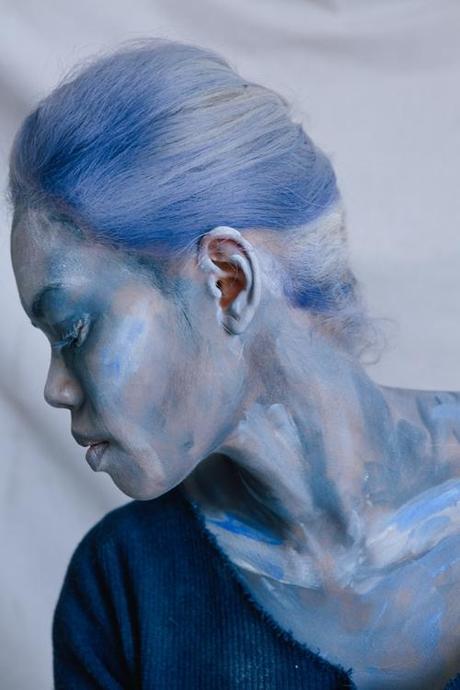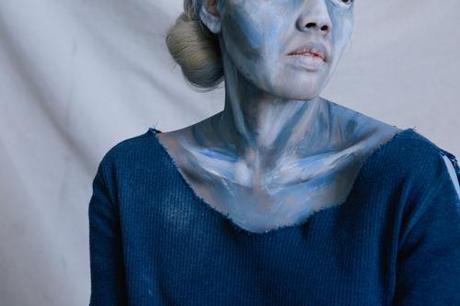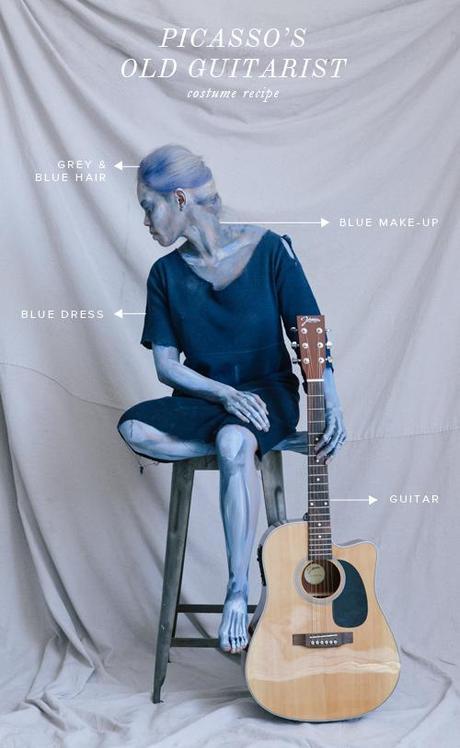 Photography by Alpha Smoot
Costume by Victoria Riza
Make-up by Rubie Huber 
Hair by Aubrey Nelson
Art directed by Brittany Jepsen
See below for full instructions.
Check out more Halloween ideas here.
OLD GUITARIST HALLOWEEN COSTUME
Materials: blue dress, guitar with strap, blue and white hair chalk
We bought a blue cotton maxi dress with long sleeves from the thrift store. 

Distress the dress by cutting holes unto the shoulder, cutting off the neckline, and using a grater to rough the edges.

Paint your nails blue with Chinchilly Essie nail polish.

Victoria has dark hair so Aubrey dyed it blonde first then colored it with blue and white hair chalk before tucking it into a low bun.

Carry around a guitar (and make sure it has a strap so it doesn't get int your way all night!).
MAKE UP TUTORIAL FOR OLD GUITARIST

I had so much fun with this one it's ridiculous.  Take a few minutes channeling your inner Picasso and get ready to paint freely without self doubt or criticism, this look is all about the artist in you!  
I used Mehron FX liquid cream face paint in blue (get it here), white and black (get it here) for this whole thing.  Grab a cookie sheet or something easily washable to create a painters palette for yourself.  
Mix the colors around and get some lighter and darker versions of the mix. For the face you can apply a base blue/grey coat with a sponge, which is softer than a brush, but I would use a brush for all the rest so you get the stroke effect. Use any large soft paintbrush (grab a cheap one from Michael's)! 
Take a look at your body and think about where you curve our and where you dip in.  Check out how light hits you and then just go at it with the paint!  Blend lighter colors where you feel like light hits more (cheek bones, collar bones, shins, tops of knees, tops of feet, the bulge on your ankle.  Paint darker blues on all the hollows or on the edges of the rounds (in dips in the neck, under the jaw, between bones, around calves).  
The Skeletal feel really comes out in the hands and feet.  Start by painting dark blue in between the fingers and extending those lines on the palm of your hand, you can just push firmly into the hand to feel where the hollows should be.  Next, paint a rough line of white on top of the fingers, adding splotches to the knuckles.  Extend this onto the palm as well. Repeat the same process on the feet.  
Once you've painted everything, step back and look in a mirror.  If you see any spot that looks too uniform or boring, blend in a different color, add more blue or white or gray than you had before and pile it onto your brush, swiping some thick strokes haphazardly. This will give you that painted look that is so beautiful.
It should not look perfect!  Keep it wild and fun and just get those creative juices flowing.  You'll love the end result and so will everyone else!