A lot of investors have been saying "Phuket" lately and they can only be referring to the annual Patong Carnival in Thailand, where the tourist bureau wants you to know the tuberculosis outbreak is "under control."  Actually, it's an amazingly beautiful place with great people – must be why so many people keep mentioning it when starting at the markets this week…
As I mentioned yesterday, we had to flip bullish because our bearish bets were no fun and we felt that A) the bottom was a little forced in order for Timmy to peddle his T-Bills and B) that Santa Clause is coming to town.  Actually, we had plenty of bearish bets from when the market was high so we needed the bullish bets to get BALANCE!  
Balance was the theme of our virtual White Christmas Portfolio and we added another $3,615 in gains over the past two weeks to bring us very close to a triple at $42,925 off our $15,000 start back on November 21st.  This is a very aggressive virtual portfolio where we are practicing the art of hit and run trading.  The positions we closed in the last 9 sessions were bullish bets with FAS, XLF, FAS, DIA, GLD, XLF, FAS and XLF and bearish bets with GLL, TZA, FAS (spread), USO, DIA, TZA, DIA, DIA, DIA, DXD.  See – BALANCE!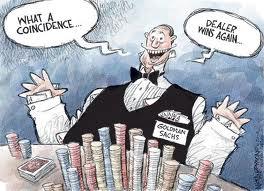 We thought the market would go up and down (I know, such a stretch!) and the markets did, in fact go up AND down with an AVERAGE swing of 1.5% PER DAY but, in the end, we're still consolidating around our Must Hold lines and right back where we were at the last options expiration day of November 18th – causing almost all puts and calls sold to sucker a month ago to expire worthless.  Isn't it a funny coincidence how all that seems to work out for the Banksters?  
As I reminded our Members, our cynical motto at PSW is "We don't care IF the game is fixed, as long as we can figure out HOW the game is fixed and place our bets accordingly."
IN PROGRESS