Helping you to engineer web applications of the most sophisticated features and functionalities, PHP is a platform much in demand today. And the reasons for it are hardly unknown.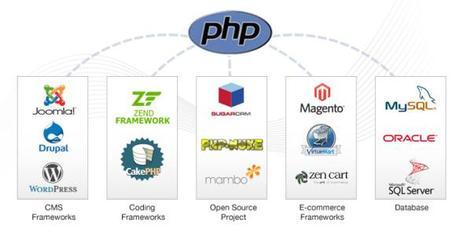 As a web development platform, PHP has powered web developers break into the most uncharted territories and come out with applications that are most unique, and singularly most amazing. On its course, PHP has given us a great choice in terms of the platforms we wish to use. All these platforms have their own utility for the developers and the end-users. The versatility they can lend to the apps is incredible and so is the robustness that you achieve for your web development solutions. The most popular and trusted PHP frameworks on this date include:
Zend
PHPDevShell
QPHP
Laravel
CakePHP
Prado
Symfony2
CodeIgniter
Yii
Aura
Zoop
Phalcon
Each of the above mentioned frameworks packs its own unique punch. One of the common attributes with all the frameworks here is that they are easy to code and work with. The code structures in these frameworks are designed such that they don't interfere with the programming experience of the developer in the respect that they don't throw intricate style of coding that is necessary in other platforms. Instead, coding in PHP is something that is easy to learn. As for mastering it, PHP has such a wide and extensive platform that there is something new to every day, even if you believe you are a connoisseur of it.
Also, the fact that perches them pretty high on popularity charts is the availability of several programming extensions and plugins that further extend their capabilities beyond the standard and default features you have learn about. These extensions are not only powerful, but they are too versatile and too far reaching in terms of the wherewithal they can hand you with. But the biggest advantage of these extensions is that they reduce the necessity of writing codes for every function you wish to introduce or inject in the app. The extensions, by the virtue of being loaded with exceptional features, fuel your website up with certain attributes which under a normal state of affairs require a heap of code to be written and complied. And this is why their importance is multiplied for the developer community by and large. Also due to the reason that these extensions are available easily and most of them are available free of cost, they are more and more sought-after by the developer community.
Talking of developers, the only way you can extract the best out of this platform is when you hand the project over to people who know their job well enough to carry it out with dexterity and in an output-driven manner. Even though the framework is easy to learn and work on, the competition has meant that companies no longer have time as a luxury to train people on the technology and hope that they will learn and develop superior applications. They need to get their hands at the best of the resources in order to make the stride forward.
So, irrespective of the method they are using to hire people, what they need is focus on quality. Even if they are going by the traditional way of hiring by posting job vacancies on public portals, they must have a number of hiring personnel in order to meticulously scan each applicant on quality and capability. Also, they would need to give themselves a larger time window if they need to ensure that the process is carried out in a manner that no body is hurrying on any aspect whatsoever.
The hiring managers should also look for the PHP developers on the forums and communities that exist on web. At such places, they can find numerous options in terms of quality and reliability. Thus, it is only obvious that when there is a focus on quality, these communities can prove to be extremely handy.
Sources of Information
PHP Benefits and How to Channelize Them For Your Business