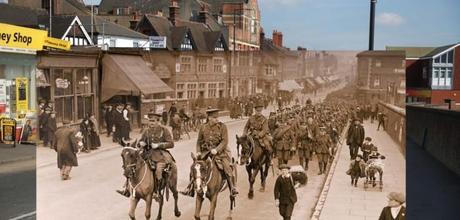 Photographs of WWI Reveal How Little Europe Has Changed
0
Photographer Peter Macdiarmid gathered modern photos from Europe and layered them on top of historic pictures of WWI, to give a sense of how much, or, in same cases, how little, Europe has changed since it was destroyed by devastating WWI.
In this global war, millions have lost lives. To be exact sixty-five million soldiers fought. Nine million killed in combat. Nearly 20 million was wounded. Even more people was left homeless and some cities were, literally, demolished and burned to the ground. This year, on July 28th,the 100 year anniversary of the declaration of World War I will be marked.
Take a look at how these jaw-dropping photographs of WWI reveal changes in Europe, in the century following the WWI.
The town hall and belfry of Arras, France
The town hall and belfry of Arras, France is seen from the main square in this archive photo of destruction wrought during WWI. The date of the photo is unknown, but the belfry was destroyed on October 21, 1914. Medieval tunnels under the city, which were expanded during the war, were pivotal in helping British forces to hold the city. 2014 photo by Peter Macdiarmid/Getty Images. Archive photo by Roger Viollet/Getty Images
Basilica of Notre-Dame de Brebieres in Albert, France
Basilica of Notre-Dame de Brebieres in Albert, France stands at the center of this 1915 photo. The statue of the Virgin Mary on the belfry was damaged by a shell in 1915. 1915 photo by Apic/Getty images. 2014 photo by Peter Macdiarmid/Getty Images
German airplanes at Place de la Concorde in Paris
German airplanes at Place de la Concorde in Paris were wrecked by celebrating crowds on the day of the restoration of Alsace-Lorraine. November 18, 1918. 1918 photo by Maurice-Louis Branger/Roger Viollet/Getty Images. 2014 photo by Peter Macdiarmid/Getty Images
Members of a Royal Garrison Artillery of the British Army
Members of a Royal Garrison Artillery of the British Army carry duck-boards across the frozen Somme canal at Frise, March 1917. 1917 photo by Lt. J W Brooke/IWM/Getty Images. 2014 photo by Peter Macdiarmid/Getty Images
Men aged between 36 and 40 going to become munition workers
A large crowd of men respond to a call by the War Office for married men aged between 36 and 40 to become munition workers. They gathered outside the Inquiry Office at Scotland Yard in London, England during World War 1. Undated archive photo by Paul Thompson/FPG/Getty Images. 2014 photo by Peter Macdiarmid/Getty Images
German troops sit on the steps of the Vareddes Town Hall, France
In 1914, German troops sit on the steps of the Vareddes Town Hall, France, during the First Battle of the Marne. 1914 photo by Print Collector/Getty Images. 2014 photo by Peter Macdiarmid/Getty Images
Trafalgar Square, London
In Trafalgar Square, London, street urchins dressed as soldiers with paper hats and canes as guns stand to attention watched by a small crowd in November, 1914. Behind them is a notice declaring 'The Need for Fighting Men is Urgent.' 1914 photo by Topical Press Agency/Getty Images. 2014 photo by Peter Macdiarmid/Getty Images
Rheims Cathedral in Rheims, France
Rheims Cathedral in Rheims, France is swallowed by a cloud of smoke during a bombardment in 1917. 1917 photo by Photo12/UIG/Getty Images. 2014 photo by Peter Macdiarmid/Getty Images
The railway station at Roye, Somme, France
Soldiers stand outside the ruins of the railway station at Roye, Somme, France, in 1917. 1917 photo by Culture Club/Getty Images. 2014 photo by Peter Macdiarmid/Getty Images
Les Halles in the Belgium town of Ypres
Les Halles in the Belgium town of Ypres was the site of three major battles during World War I, and was almost completely devastated by bombing in 1915. 1915 photo by Hulton ARCHIVE/Getty Images. 2014 photo by Peter Macdiarmid/Getty Images
Verdun, France after a German bombing In 1916
A French soldier walks through the ruins of Verdun, France after a German bombing In 1916. Photo by Keystone-France/Gamma-Keystone via Getty Images. 2014 photo by Peter Macdiarmid/Getty Images
The 4th King's Own Royal Lancers Regiment,England
A vintage postcard shows the 4th King's Own Royal Lancers Regiment marching into Tonbridge, England during World War One, circa March 1915. Postcard image by Popperfoto/Getty Images. 2014 photo by Peter Macdiarmid/Getty Images
Source:PBS