Taking pictures of the International Space Station seems like something that normal human could not done, but that is very possible, even from your own backyard!
If  you have the right equipment, here is explanation by NASA photographer Lauren Harnett. She took photos with the moon as the background.
Here is list of equipment that you need (you can always make change, this is only equipment what was used to take these photos, you can substitute your favorite gear):
Digital Singe-Lens Reflex (DSLR) camera
600 mm lens (or the largest you have)
2X telephoto lens converter (amplifies lens)
Trigger cable (minimizes camera shake)
Tripod (heavy duty works best)
Sandbag (keeps tripod stable)

Steps for photographing the Space Station with the moon you can find HERE (official NASA website).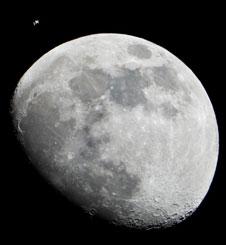 The International Space Station can be seen as a small object in upper left of this image.
This image was taken on Jan 4. in the skies over the Houston area, flying at an altitude of 390.8 km (242.8 miles)
Photo credit: NASA