NASA astrobiologist Dr Richard Hoover says he found microscopic fossils in not one but three asteroid fragments that are among the oldest in the solar system. He concludes that they are the remains of life that existed in deep space on the cosmic bodies that produced the meteorites in the first place. He researches a freshly sliced fragment from the meteorite which could not have been affected by any contaminents.
The claims are published online on a website of the Journal of Cosmology which has become famous for going boldly where others do not dare. There are many skeptics, but a keen supporter to Dr Richard in his researches is Chandra Wickramasinghe, director of the Astrobiology Centre at Cardiff University.
Of his own claims, Dr Hoover said: "I believe these findings indicate that life is not restricted to Earth, but is broadly distributed, even outside our solar system."
Maybe this is the way that life on Earth started to develop?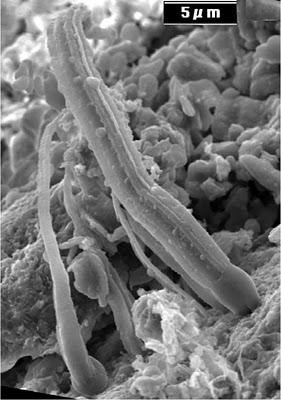 Image of fossils in the Orgueil meteorite (Journal of Cosmology)