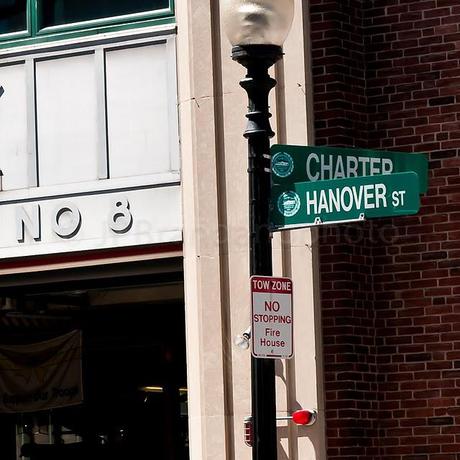 When we recently visited our family in Massachusetts we visited the North End with my brother Vinny and his wife Susan. The North End is a neighborhood of Boston which has the distinction of being the city's oldest residential community, where people have lived continuously since it was settled in the 1630s. The streets are narrow and compact and there is history
seemingly around each corner. 
The Old North Church, where two lanterns were hung on the night of April 18, 1775, signaled Paul Revere that the British troops were setting out for Lexington and Concord in boats across the Charles River. 
You may remember Longfellow's words, "One if by land and two if by sea".  Paul Revere's house, a two and a half story wood building
where he was living that night is still there.
 There is also a park dedicated to Paul Revere where people enjoy a beautiful day.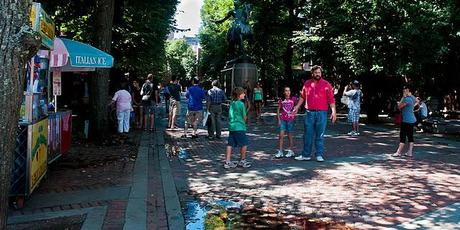 On Hanover Street stands St. Stephen's Church built in 1804.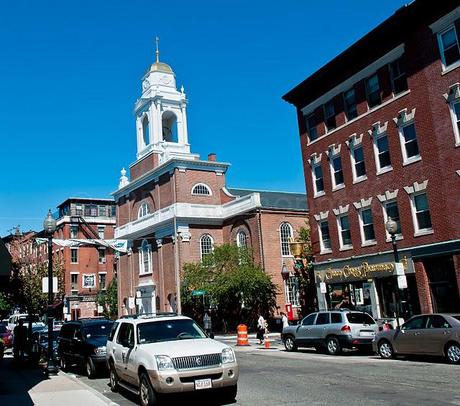 There seems to be a feast celebrating a different saint each week!!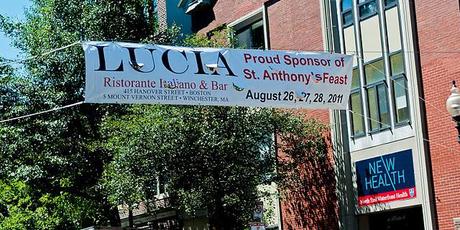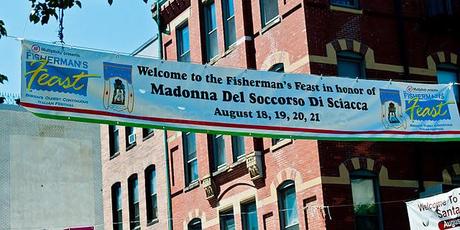 The North End was one of our favorite places to visit even when we lived in Massachusetts. Getting back to see it again was a real treat. This is a place where the past meets the present, where history sometimes collides with traffic, where saints, sinners and everything in between have lived and continue to live.
Historically it is a great place to visit but I have to admit we have gone so many times not for the history but for the people, the ambiance and the food!!!! For a small neighborhood there are over 100 restaurants, mostly Italian!! You can find some of the best Italian food in Massachusetts right here in the North End. Many are located on either Hanover or Salem Streets but by no means all of them. Many are tucked away on little side streets. There are also many small neighborhood grocery stores selling Italian products.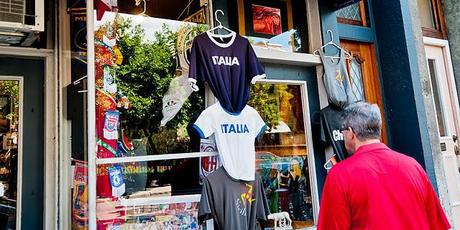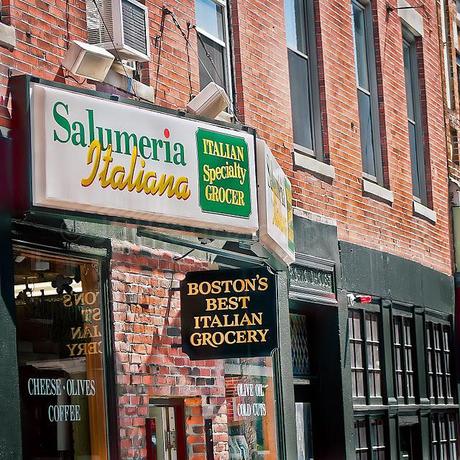 In the summer months some restaurants open their windows to allow street side tables. Here you can eat great food and enjoy great people-watching.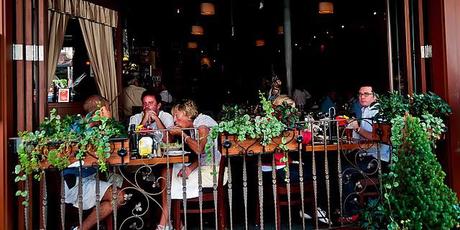 Looking through a window of an Italian grocery store.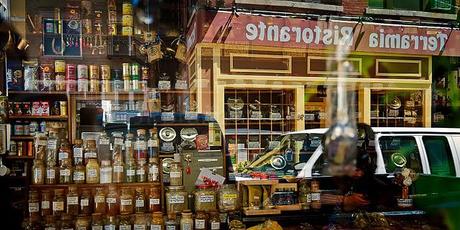 An Italian neighborhood needs to have an Italian bakery and one of the best is Mike's Pastry which has been in business since 1943.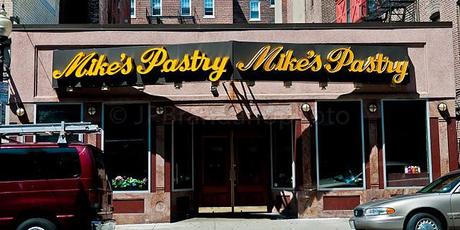 This was about 11 AM on a Monday!! They do a terrific business.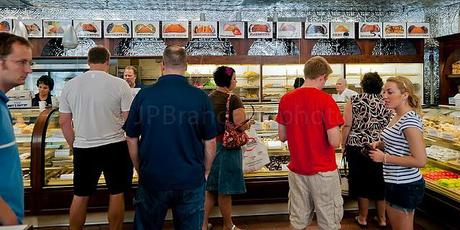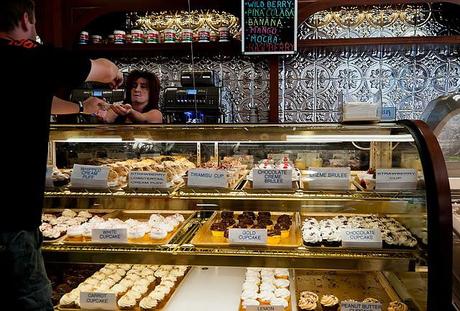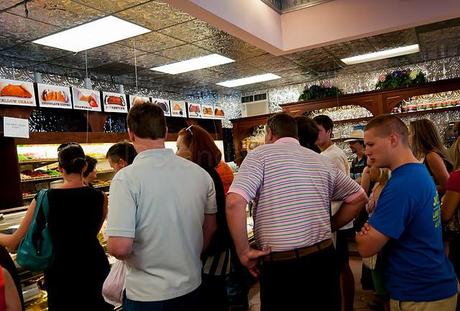 Great bread, pastry and gelato.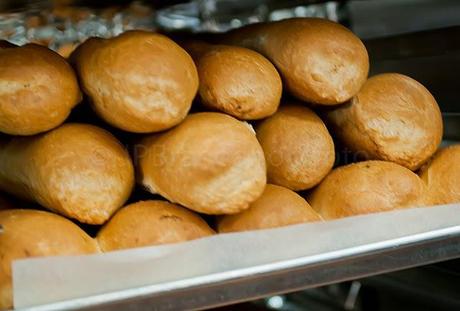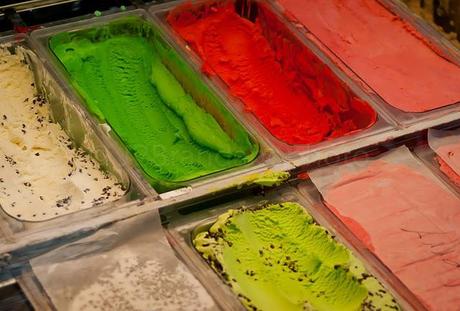 In the early 20th century the North End was dominated by Italian and Jewish immigrants. But to understand the sheer size of the Italian immigrant population, one must first look back at the groups that preceded them. The Irish, at their peak, numbered roughly 14,000 and the Jews numbered 17,000. The Italians, however, peaked at over 44,000. 
This resourceful neighborhood has endured a few disasters in its history. The Spanish Influenza Pandemic of 1918 hit the crowded North End severely; so many children were orphaned that the city created the Home for Italian Children to care for them. The following year in 1919 the Purity Distilling Company's 2.3 million gallon molasses storage tank exploded, causing the Great Molasses Flood. This may seem funny but it was anything but!! A 15 foot wall of molasses flowed down Commercial Street towards the waterfront, sweeping away everything in its path. The wave killed 21 people, injured 150 others and caused damage worth about $100 million in today's money!! 
In the 1950's the Central Artery was built to relieve Boston's traffic. The artery walled off the North End from downtown Boston, isolating the tiny neighborhood. Ultimately the artery was dismantled as part of another state project. I have to believe that  being walled off like that for over 50 years helped build the wonderful sense of community that has helped it survive all these years. 
We have found the people to be warm, helpful and family loving. I think they are more receptive to visitors than any other area of Boston I have visited. Now I will admit that I am proudly Italian American but I really think I would feel that way if my name was O'Brandon and not Brandano. 
These two gentlemen really were helpful in telling us where and how to park our car!!!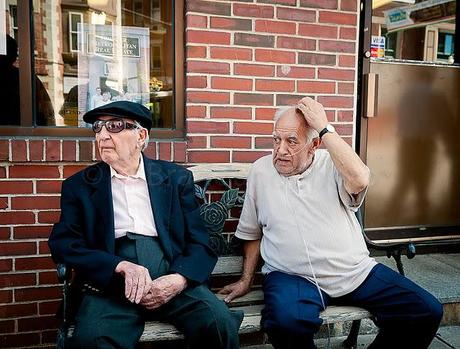 I think the true story of any neighborhood is told in the faces of the people who live there!!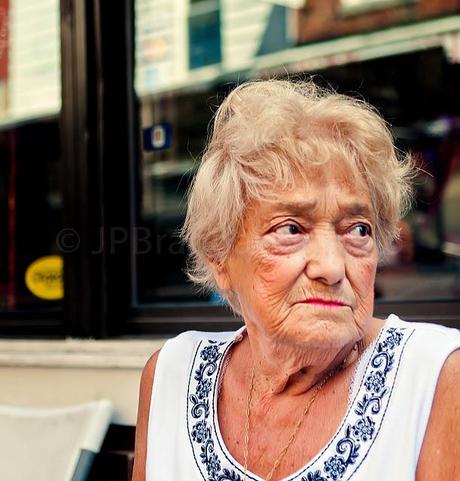 Two 'belle signore'! Actually these two beautiful ladies are Phyllis and our sister-in-law Susan!!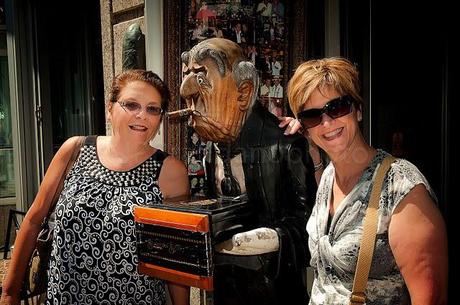 You can see the old and new all over the North End!!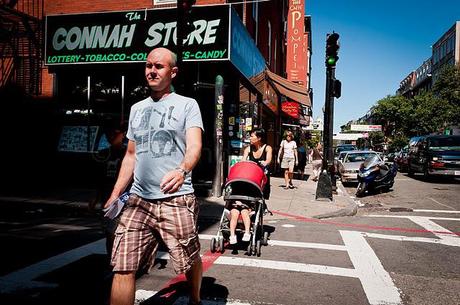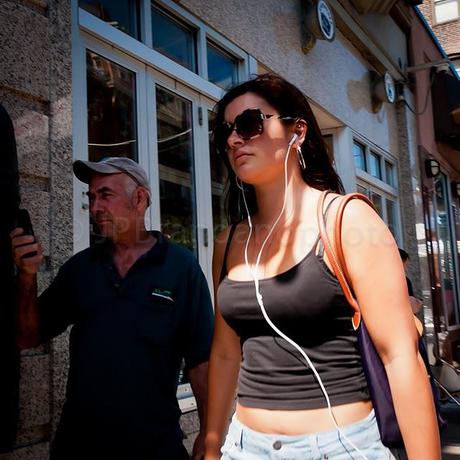 If I'm writing about an Italian neighborhood that has been around starting in the 1600s, I guess I need to mention the Mafia!  The Mafia was rumored to be involved there. It is said that the Angiulo family was the leading Italian-American crime group from the North End during the 1950s and 1960s. As made guys they were placed in control of the racketeering throughout Massachusetts. 
That is until the Irish mobs such as the Winter Hill Gang decided to run the rackets in their own neighborhoods. During that time one of their members, James 'Whitey' Bulger was informing on their Italian mob colleagues by allowing the FBI to bug their headquarters during the early 1980s. After that the Italians lost power in the area altogether. But they stilled ruled in certain areas including the North End. 
I will not spend anymore time on this part because I do not want to take away from what all the law abiding citizens of this great neighborhood have accomplished all these years. Besides I do not get royalties from the renting of the Godfather movies. 
People here still use clotheslines and clothespins to dry their clothes.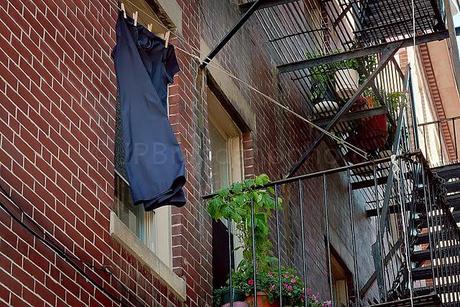 A little alley way dedicated to all the saints!!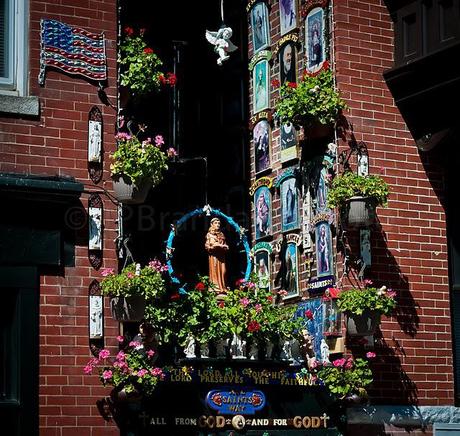 This is a great part of the city to visit, it still has that old world flavor to it: a real flavor not fabricated to make a few dollars. These are real people living here, many of their families have lived here for over 100 years. If you're in Massachusetts, I would recommend you visit the North End and enjoy the atmosphere, the great people and the truly wonderful food!!!!