Dear readers, I am sorry for this late Shoot That Thursday post but it seems like my life  is taking an unpredictable (and interesting) path lately, but still you  always are in my mind. So today not only I will present you my vision of the photographer

Yang Bin

but I'll also select a piece from Absolute.B musical paradise because after all it's Friday ! Come back later in the day for some chills.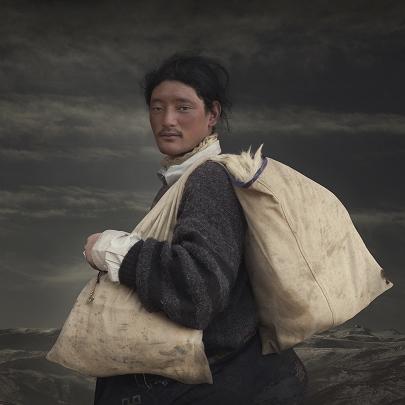 Photographer : Yang Bin 
Where you can see and buy his photographs :
YellowKorner
Why Yang Bin ? Yang Bin is one of the first photographer that caught my attention when I browsed YellowKorner site. Actually I was already curious about his work before I received their

newsletter

. I started looking for informations and more pictures by him on Google but would you believe me if I told you that this task is as hard as looking for a needle in a haystack ? He has no site, no tumblr, nothing to discover more of his universe. I am even wondering how YellowKorner found him ! This difficulty to have access to more of his photographs made me more eager to own one of his piece later if it is still possible..
I think I was attracted by his work because I was disturbed, was it a painting or a photography in front of my eyes ? Then I found captivating his portraits because I bet the codes of the portrait genre are different in China. His work is an interesting mix of Orient and Occident introducing us to many type of chinese people and above all to many sides of the traditional China. I believe that what makes me wonder even more if his art is painting or photography is this feeling of not knowing to which era each of the character he photographed belongs to. 
Yang Bin's universe is a subtle mix of present and past, of Orient and Occident from every angle, and I think that is why I am so much in love with his work.
What I'm seeing. Yesterday I had an interesting discussion with my friend

Absolute.B

. I already had an idea of what I would wrote about the photograph on the top, but exchanging our opinions  made me think even more of the reason why I chose this seller of cowpats instead of the

young wizard

she found much more powerful. Just like her I did find the young wizard really amazing but the picture is so flabbergasting of beauty that it leaves me without word. I don't have anything to say about it except that it is..flabbergasting. 
Instead in front of the seller of cowpats, my mind started to wander. In my opinion, this picture is the most representative of Yang Bin's aesthetic. It was the one that disturbed me the most when wondering if it was a painting or a photography but also regarding the era. That's a feeling I didn't get while watching at the young wizard which, according to me, gives less doubt: when in front of it you can tell it is a picture. 
An other thing I like is the simplicity of the model, his sweet and almost dreamy glance that in some way, and I don't know why, reminds me of some Johannes Vermeer paintings. 
Among all Yang Bin's photographs I have seen this one is my favorite because it is the one that disturbed the most. Strange that I didn't go for the young wizard which aesthetically is more beautiful right ?
I just wanted to give my impression on this shot but if you want to read a more accurate and professional point of view I invite you to go

there

.
Between a work of art that you find beautiful and another one that you find disturbing, which one will you choose ?