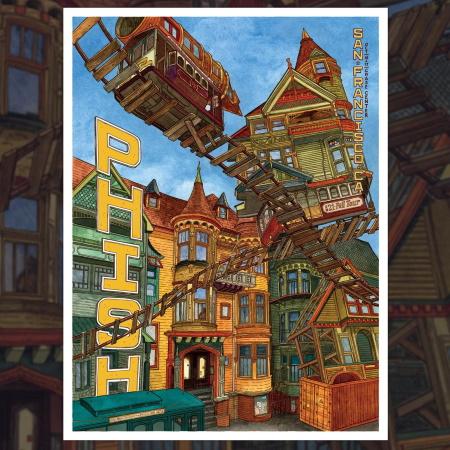 San Francisco 2021 poster by Dan Black and Jessica Seamans at Landland
Phish
2021/10/16
Chase Center
San Francisco, CA
Set 1:
Possum
Halley's Comet >
46 Days ->
Slave to the Traffic Light
Simple >
Shade >
Winterqueen >
Meat >
Run Like an Antelope
Set 2:
Bathtub Gin >
Everything's Right >
Frankie Says ->
Bathtub Gin >
The Wedge
The Moma Dance
Encore:
Carini
Notes from phish.net:
This was the rescheduled date from the show that had been postponed due to the coronavirus COVID-19 outbreak in 2020.
» Buy the official LivePhish 2021/10/16 release.
Audience sources:
Audience sources can be found on bt.etree.org.