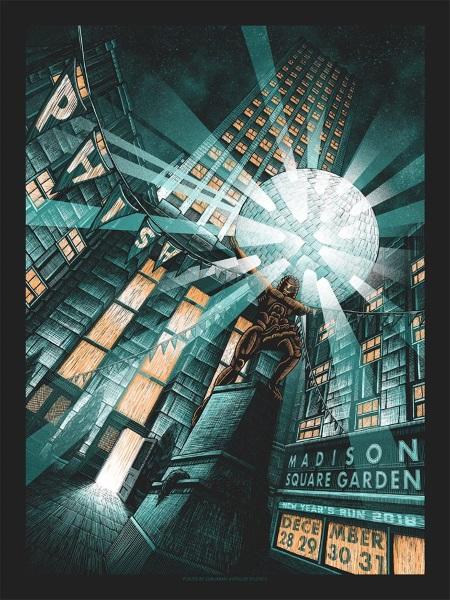 Official MSG 2018 NYE run poster by Luke Martin
Phish
2018/12/31
Madison Square Garden, New York, NY
Set 1:
The Moma Dance
Stray Dog
555
Sand
Lawn Boy
Steam >
Chalk Dust Torture >
What's the Use? >
Play by Play
Waste
Ass Handed
Run Like an Antelope
Set 2:
Down with Disease >
Farmhouse >
Seven Below >
Twist > Harry Hood >
Passing Through
Harry Hood
Set 3:
Mercury >
Auld Lang Syne
Say it to Me S.A.N.T.O.S.
Simple
Saw It Again >
Limb By Limb >
Rock and Roll >
Suzy Greenberg
Encore:
The Lizards
Character Zero
Notes from phish.net:
This show was webcast via Live Phish.
» Buy the official LivePhish 2018/12/29 release
» (FLAC | FLAC-HD | ALAC | MP3 | CD)
Audience sources:
Audience sources can be found on bt.etree.org.