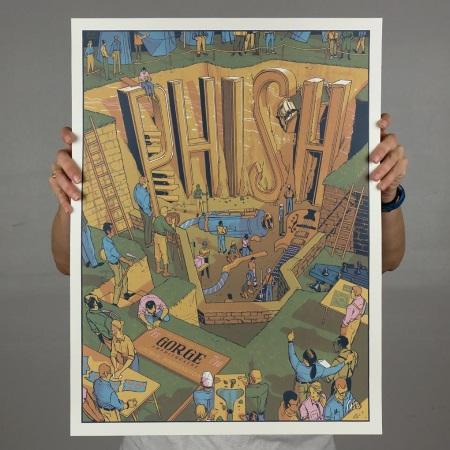 Official George poster by Rich Kelly.
Phish
2016/07/15
Gorge Amphitheatre, George, WA
Set 1:
Tweezer >
Sample in a Jar
The Old Home Place
Wolfman's Brother
Bouncing Around the Room
Undermind
Kill Devil Falls
Lawn Boy
Ass Handed[1]
Party Time
The Line
Tide Turns
Rift
Walls of the Cave
Set 2:
Crosseyed and Painless >
What's the Use?
No Men In No Man's Land ->
Stash >
Ghost[2] >
No Men In No Man's Land ->
Chalk Dust Torture >
Meatstick >
Also Sprach Zarathustra >
Cavern
Encore:
Makisupa Policeman >
Wilson >
Good Times Bad Times
Notes from phish.net:
[1] Debut.
[2] Trey on Marimba Lumina; Mike and Page on percussion.
Notes: This show was webcast via Live Phish. This show featured the debut of Ass Handed. The Old Home Place was played for the first time since June 28, 2012 (155 shows). Crosseyed contained an Under Pressure tease from Trey. Ghost featured Trey on Marimba Lumina and Mike and Page on percussion. NMINML was teased in Ghost, CDT, and 2001 and quoted in Ghost. Crosseyed was teased in Stash, Ghost, CDT and quoted in NMINML, Ghost, 2001, and Cavern. What's The Use? was teased in Stash, Ghost, CDT, and Cavern. Fish quoted Makisupa in Wilson.
» Buy the official LivePhish 2016/07/15 release
» (FLAC | FLAC-HD | ALAC | MP3 | CD)
Audience sources:
Haven't surfaced yet.