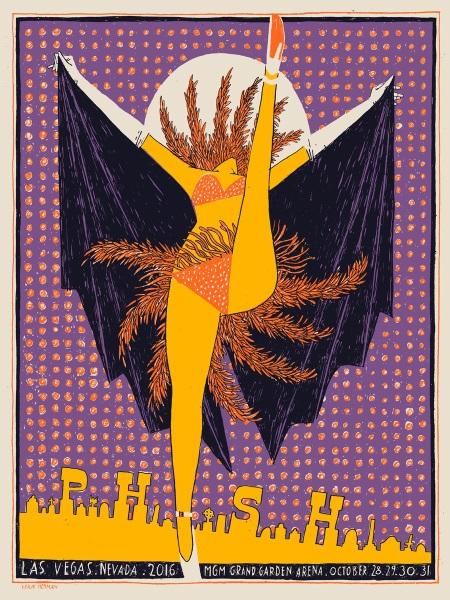 Official Vegas poster by Leslie Herman
Phish
2016/10/29
MGM Grand Garden Arena, Las Vegas, NV
Set 1:
The Birds
Kill Devil Falls
555
Roggae
Gumbo
Lawn Boy
Wilson
Maze
Wingsuit
More
Set 2:
Mercury >
Piper >
Scents and Subtle Sounds[1]
Tweezer >
I Always Wanted It This Way[2]
The Horse >
Silent in the Morning >
Golgi Apparatus
Encore:
Shine a Light >
Tweezer Reprise
Notes from phish.net:
No intro.
[2] Trey on Marimba Lumina
This show was webcast via Live Phish. Trey teased Call To The Post at the end of Gumbo. Scents did not have the intro. I Always Wanted It This Way featured Trey on Marimba Lumina.
» Buy the official LivePhish 2016/10/29 release
» (FLAC | FLAC-HD | ALAC | MP3 | CD)
Audience sources:
Haven't surfaced yet.