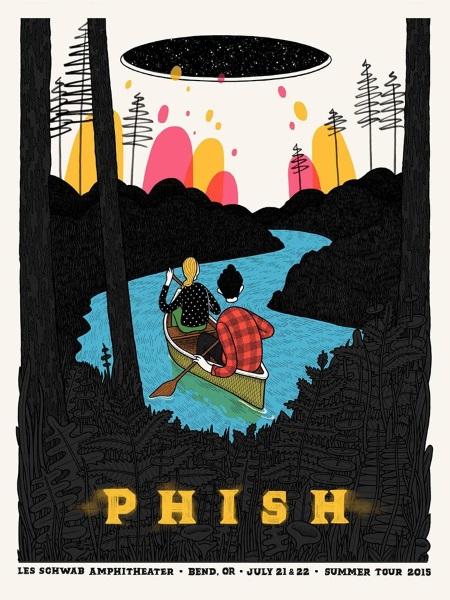 Official LE poster for Phish's 7/21&22 Bend, OR shows by Jackson Tupper
Phish
2015/07/22
Les Schwab Amphitheater, Bend, OR
Set 1:
Stash
How Many People Are You?[1]
Winterqueen
Heavy Rotation[1]
Back on the Train
Scabbard[1]
Maze
Mercury[2]
Possum
Set 2:
A Song I Heard the Ocean Sing >
Waves >
Wingsuit
Farmhouse
Simple
First Tube
Encore:
Simple
Notes from phish.net:
[1] Phish debut.
[2] Debut.
This show was webcast via LivePhish. This show saw the debut of Mercury, and the Phish debuts of How Many People Are You? (Gordon/Murawski), Heavy Rotation (McConnell), and Scabbard (Anastasio). Do You Feel Like We Do was teased after Maze. Trey teased Little Drummer Boy at the end of Gin.
» Buy the official LivePhish 2015/07/22 release
» (FLAC | FLAC-HD | ALAC | MP3 | CD)
Audience sources:
Haven't surfaced yet