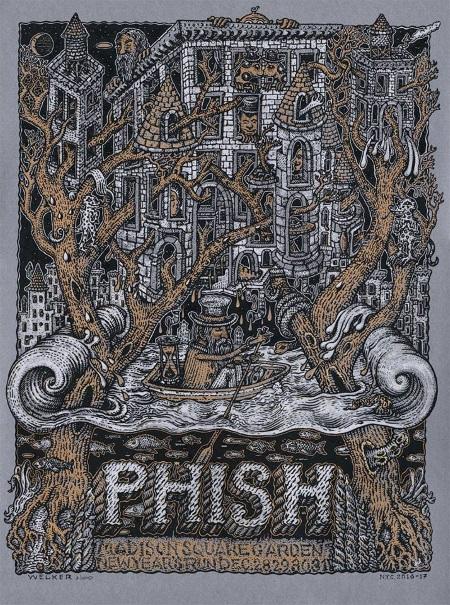 Official MSG 2016 NYE run poster by David Welker
Phish
2016/12/28
Madison Square Garden, New York, NY
Set 1:
The Star Spangled Banner
Stealing Time From the Faulty Plan
Lonesome Cowboy Bill >
Free
Train Song
Prince Caspian
Roggae
Funky Bitch
Halfway to the Moon
Corinna
Stash
Cavern
Set 2:
Wolfman's Brother
Golden Age ->
Simple >
Chalk Dust Torture
Martian Monster ->
Tweezer Reprise[1] ->
Martian Monster
Wingsuit >
Possum
Encore:
Good Times Bad Times
Notes from phish.net:
1] Lyrics changed to "Your trip is short".
This show was webcast via Live Phish.
» Buy the official LivePhish 2015/12/28 release
» (FLAC @ FLAC-HD @ ALAC @ MP3 @ CD)
Audience sources:
Haven't surfaced yet.