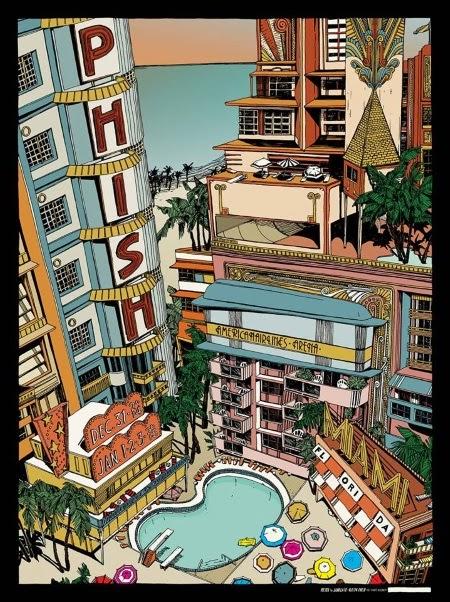 Miami LE posters by LandLand
Phish
2015/01/02
American Airlines Arena, Miami, FL
Set 1:
Free
The Moma Dance >
Possum
Roggae
Stash
Back on the Train
Sugar Shack
The Line
Ocelot
The Squirming Coil
Set 2:
Mike's Song >
46 Days >
Weekapaug Groove[1]
Fuego >
Slave to the Traffic Light
Also Sprach Zarathustra >
Walls of the Cave
Encore:
Sleeping Monkey >
Rocky Top
Notes from phish.net:
[1] Trey on Marimba Lumina, Mike on Guitar.
Teases: The Birds quote in Weekapaug Groove.
Notes: This show was webcast via LivePhish. Weekapaug included quotes from The Birds and featured Trey on marimba lumina and Mike on guitar.
» Buy the official LivePhish 2015/01/02 release
» (FLAC - [email protected] ALAC - MP3 - CD)
Audience sources:
Haven't surfaced yet.