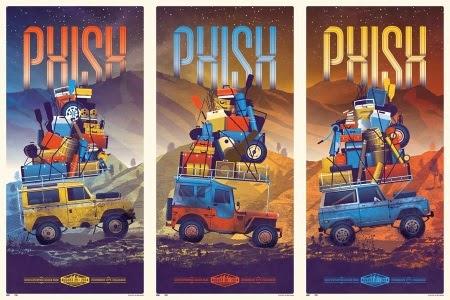 LE posters by DKNG
Phish
2014/08/30
Dick's Sporting Goods Park, Commerce City, CO
Set 1:
Free
The Moma Dance
Halley's Comet
Stealing Time From the Faulty Plan
555
Rift
Sample in a Jar
Devotion To a Dream
Yarmouth Road >
Sparkle
Wingsuit
David Bowie
Cavern
Set 2:
Down with Disease[1] ->
What's the Use?
Carini >
Light >
Fuego >
Slave to the Traffic Light
Meatstick
Bold As Love
Encore:
The Horse
Silent in the Morning
In a Hole
Fluffhead
Notes from phish.net:
[1] Unfinished
Notes: The second set was preceded by Call to the Post teases. Down with Disease contiained What's the Use? teases and was unfinished. Page played the guitar part of The Horse on piano while Trey sang. Trey told the story of writing In A Hole before a portion of the song was played; In a Hole was last payed on 12/16/89 (1346 shows - actually 1320 per David Steinberg, who unlike phish.net doesn't count soundchecks).
» Buy the official LivePhish 2014/08/30 release
» (FLAC @ FLAC-HD @ ALAC @ MP3 @ CD)
Audience sources:
Haven't surfaced yet