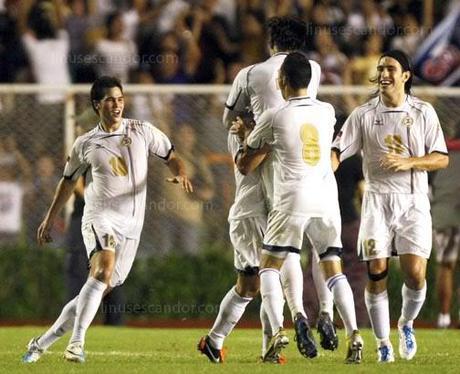 © linus Escandor
Philippine Azkhals celebrate the goal against Kuwait, in the FIFA World Cup Qualifying match Thursday July 28, 2011 in Manila, Philippines. Kuwait beat the Philippines 2-1 in the second leg of their World Cup qualifier to win 5-1 overall and advance to the group stage third round. Photo by: LINUS GUARDIAN ESCANDOR II/Canon EF 400mm 2.8mm lens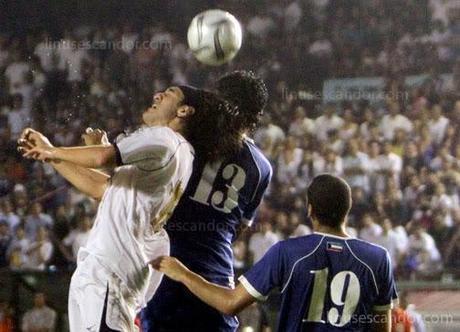 © linus Escandor
Philippine's Angel Guirado (L) use his head on the ball against Kuwait's Musaed Neda (C)
and Ahmed Al Rashidi (R) during their qualifying match for the 2014 FIFA World Cup qualifying football match between Kuwait and the Philippines at the Rizal Stadium in Manila on July 28, 2011. Kuwait won, 2-1.Photo by: LINUS GUARDIAN ESCANDOR II/Canon EF 400mm 2.8 lens
The Azkals came out with a more aggressive play paired with timely defense and saves led by Niel Etheridge. Stephan Schrock scored a goal with 47:59 in the first half to give the PH Azkals a 1-0 lead over Kuwait over at the Rizal Memorial Football Stadium. Schrock together with skipper Ally Borromeo are back in harness after sitting out the first encounter with Kuwait.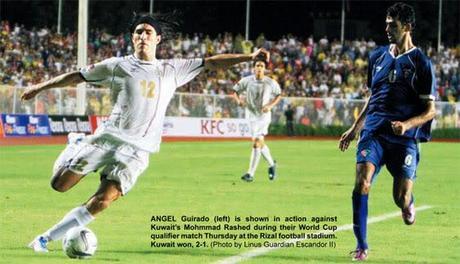 © linus Escandor
The game was highly physical and coach Michael Weiss needs to push the Azkals some more to allow the Philippines to keep their World Cup dream alive.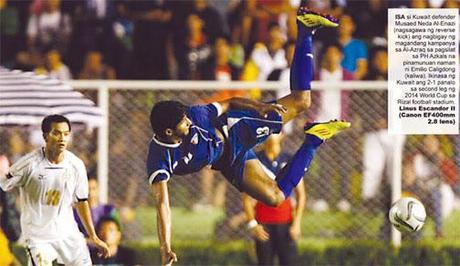 © linus Escandor

Kuwait made two goals in the second half to win the match 2-1 and crush the dreams of the Philippines for the 2014 World Cup. Youseef Naseer and Waleed Jumah made the two goals for Kuwait.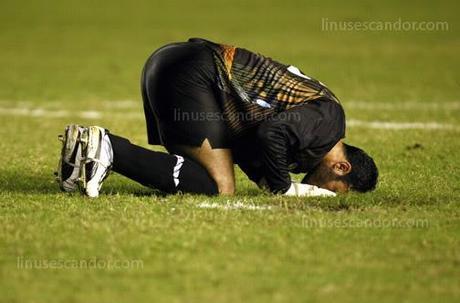 © linus Escandor
Kuwait's Goalkeeper Nawaf Al Khaldi celebrates winning during the 2014 FIFA World Cup qualifying match against the Philippines at the Rizal football stadium in Manila July 28, 2011. Kuwait beat the Philippines 2-1. Photo by: Linus guardian Escandor II/Canon EF 400mm 2.8mm lens.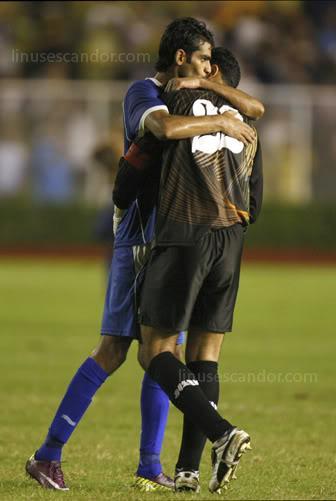 © linus Escandor
Kuwait's defender Amer Al Fadhel (L) and goalkeeper Nawaf Al Khaldi (R) celebrate during the 2014 FIFA World Cup qualification soccer match at the Rizal football stadium in Manila, Philippines, 28 July 2011. Kuwait won 5-1 on aggregate to advance to the third round. Photo by: Linus Escandor II (Canon EF 400mm 2.8 lens)