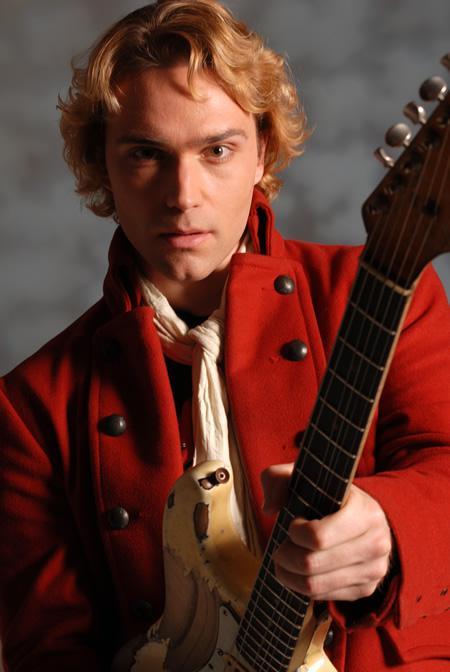 photo:
William Hames
Philip Sayce is a Welsh guitarist who grew up in Canada and played in the band of Melissa Etheridge. He was a valued member of the Jeff Healey Band an scored a US No.1 with Drift Away with his band Uncle Kracker.
He became a solo artist artist in 2009 and quickly released two studio albums that sounded good albeit it a bit too smooth for the kind of blues rock he is into. Sayce is a guitar player who comes alive and his new album Ruby Electric showcaes his talent with a tight band. One half of the album was recorded live on the road in France, Germany and The Netherlands. The other half consists of demos, alternate takes, anorher live song and a duet with Melissa Etheridge, the album's opener Let The Love In.
Sayce has captured the right vibe this time. Vol.. 1 was recorded at Sunset Sound and Lion's Share, Hollywood, in a live set-up, with Dave Cobb acting as producer and Mark Rains in charge of the mixing. Legedmary engineer Eddie Kramer proofs that he still has great ears when mixed the live stuff of Vol. 2. Tracks like One Foot In The Grave and Take You Away pack a punch. Oddly enough the coupling of Cinnamon Girl/I Want You (She's So Heavy), regular covers during his live set, is a bit of disappointment. It's OK when a Neil Young song sounds a bit muddy, but the vocals lack power, and The Beatles' I Want You repetitive guitar work-out only scratches the surface and is too short too make a lasting impression.

Ruby Electric is released on Provogue Records, an impirnt of the Macot Label Group. Rleaswe date: July 11th.
Tracks: Vol. 1 (Studio)
Let The Love In
Set Us Free
Daydream Tonight (Live at Lion's Share)
King Of New Mexico
Were You There
Ruby Electric
Vol. 2 (Live)
Helios
One Foot In The Grave
Powerful Thing
Slipaway
Alchemy
Take You Away
Angels Live Inside
Cinnamon Girl/I Want You (She's So Heavy)
Musicians (Vol. 1)
Philip Sayce: vocals, bass, guitar
James Sayce: vocals, guitar
Kenny Aronoff: drums
Dave Cob: bass
Roger Bueno: bass
Melissa Etheridge: vocals
Fred Mandel: piano, organ
Joey K.: drums
Musicians (Vol. 2)
Philip Sayce: vocals, guitar
Joel Gottschalk: bass, vocals
Fritz Lewak: drums, vocals
Powerful Thing is offered as a free download
Live dates:
08/07/11 Leverkusen, Germany @ Topos
10/07/11 Weert, The Netherlands @ Bospop Festival
11/07/11 Celle, Germany @ Herzog Ernst
12/07/11 Bremen, Germany @ Meisenfrei
14/07/11 Velden, Austria @ Bluesiana
16/07/11 Dresden, Germany @ Tante ju
17/07/11 Reichenbach, Germany @ Bergkeller
19/07/11 Erfurt, Germany @ Stadtgarten
20/07/11 Munich, Germany @ Backstage werk
23/07/11 Pommern, Germany @ Uferock Festival
24/07/11 Antwerpen, BE Rythm & Blues Festival
25/07/11 London, UK @ Borderline
27/07/11 Bristol, UK @ The Tunnels
28/07/11 Holmfirth, UK @ Picturedrome
29/07/11 Manchester, UK @ Band on a Wall
30/07/11 Maryport, UK @ Maryport Blues Festival