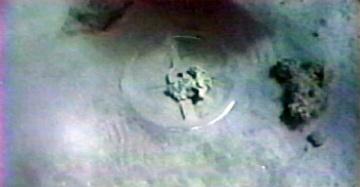 My Blind Target from the other day was this object. I cannot recall where I got this image from, but the publisher of it was convinced that this was a wheel from the Biblical Pharaoh's chariot. So I am assuming that the body of water it was found in was also believed to be the Red Sea, which has also never been positively identified.
From the image we can see that this picture was taken from above, I believe the author said with a boat mounted camera. However, this is not a chariot wheel. If the publisher had been able to retrieve it they would have discovered it was no bigger than 2 feet across; much too small for a chariot wheel. It also seems to be a metal symbol or crest of some kind that also probably served as a mechanism on a sailing ship.
The publisher thought this was a solid gold chariot wheel, which would have been remarkable in itself, considering how heavy gold is. It is doubtful that even a Pharaoh's chariot wheels would have been made out of solid gold. They would have been more likely made out of wood, as were most chariot wheels, with some gold coverings.
I could tell I had two aspects immediately with this target, and that one was a solid object, with extensive overlay. So much so that I labeled my session an IT (Idea Template). The one thing I found most amazing about this target was that the strength of the publisher's belief caused profound overlay. This guy really believed this was the Biblical Pharaoh's chariot wheel.
Alas, not so.