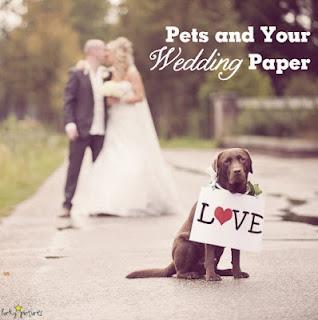 Including pets in your wedding day is becoming far more common then you might imagine. For many people, pets are not
just
pets they've become members of the family. Folks are finding lots of fun and unique ways to involve their furry four-legged friends in their big day. Including your pets also helps to personalize the experience for guests, offering a glimpse into a little bit of your home life.
Here are some recent web finds that might help with inspiration and pet logistics:
One way to include pets into your wedding festivities is right from the start--- the wedding invitation. These invites below by Lily & June Designs give us a clue that the happy couple might have one (maybe two) Boston Terriers at home.
Invitations by Lily & June Designs called "Boston Love"

Creating an invitation that gives a nod to your pet is a great way to include your furry family member even if they can't make the event.
Modern dog-lovers invitation by WDesign
If you do decide that Fido is going to attending the big day then I think it's only fair that he or she should dress for the part. Here is a quick how-to from bloomize on
how to make paper bow ties. 
Photo from bloomize
Please share any plans you have that include your furry companion!