I hope you're not tired of pistachio shell projects because here's one more :) And this one is my favorite so far!
It is heavily influenced by this Serena & Lily chandelier, only mine is done on the cheap using things I had on hand and thus came out free as opposed to the almost $900 of the original. Mine is pretty small scale as well but I think it would look gorgeous on a larger scale, if someone would dare to go there (drilling those pesky little holes in the shells takes an eternity and a half, the bigger the project the longer the eternity. Be warned!)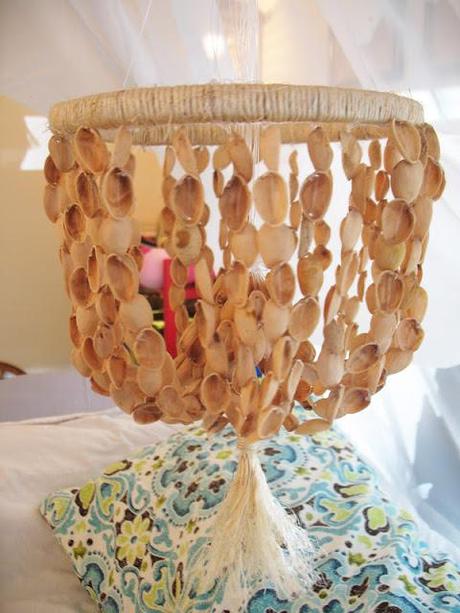 It's made using an embroidery hoop as the base, Dollar tree twine, fishing line and recycled pistachio shells.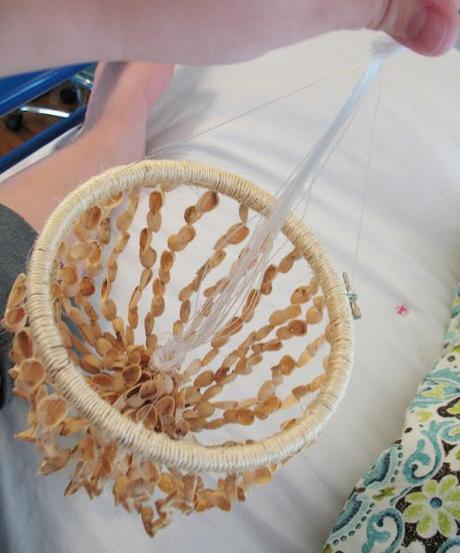 This pic shows the "internal" construction a little better. Just a whole bunch of fishing line strands strung with shells hung from the frame, gathered at the bottom and tied into a knot. The remaining tails are used to give the hanging strands their rounded shape and become part of the hanging mechanism.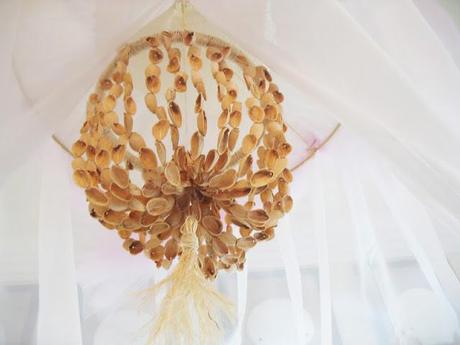 Finished off with a little twine tassel strung from fishing line. Simple but cute and in my opinion pretty much identical to the inspiration (possibly slightly less refined?).
This little chandelier was made to tone down the girliness of this canopy I made for my daughter because the chandelier is earthy and gives things more of a beach/island vibe than girly-girl. Like so.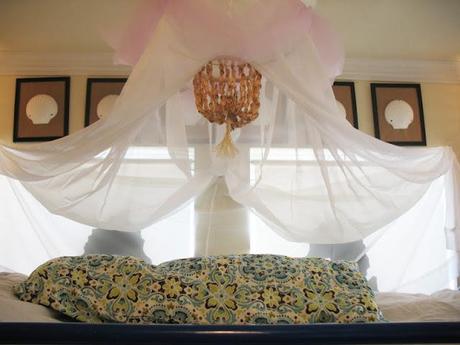 Without the chandelier it would just have looked like a meringue puff :)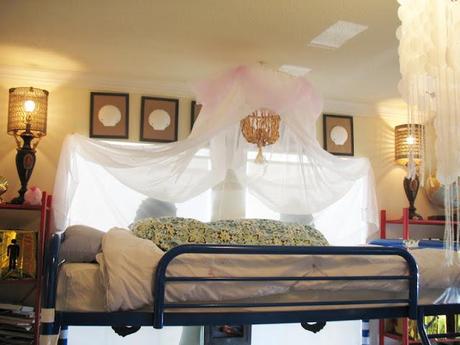 This canopy/chandelier is the only outright girly extravaganza in our kids' otherwise unisex underwater/beach themed room.


 Our daughter loves her princess bed and happily slept in it for 3 nights before she decided it was too scary to sleep in the top bunk (?). So when bed time comes around the ownership transfers to our son who now snores his nights away as a princess. Kids. Go figure :)
I think the whole canopy cost me about $20 (2 sheer curtain panels from Big Lots, a large metal ring from the craft store and some tulle, hung with twine from a hook in the ceiling). By attaching the canopy to the wall it's kept out of the way (practical) while still providing that fairy tale feel and look.
You all know this room is a work in progress so it's not finished yet but with every little project it gets closer and closer. Soon. Slap some paint on those walls, a few little tweaks and it should be done-diddly-done-done.
Btw, we have spring break coming up as well as my mom visiting from Sweden so I'll probably be absent for a few weeks. Usually when I give myself a blog vacation I get so many new ideas for new projects so I hope to be back with more cool stuff shortly :)