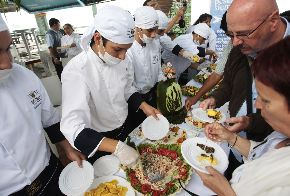 For all of you New Yorkers, or those planning a trip to visit Manhattan next week, the 8th Annual StarChefs.com International Chefs Congress will take place from September 29 – October 1, 2013 at Pier 57. And what makes it more special this year, Peru's Export and Tourism Promotion Board (PromPeru) will attend this year's showcase and display the international appeal and gastronomic innovation of the Andean country.
The aim is to promote Peru's cuisine among American opinion leaders and the country as a dining destination in that market.
Likewise, the entity intends to promote agribusiness and fishery products for human consumption that are part of the Peruvian exportable offer and are typical of the food supplies.
This is just another step in establishing Peru as a world leader in culinary art.