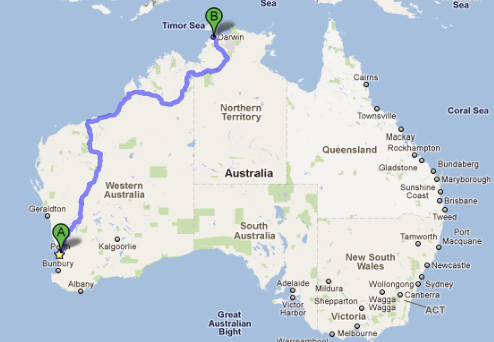 It was a road trip.  I had said I wanted to cross the desert.  I wanted to see the red sands of the Outback and feel its blistering heat.  I'm one of those crazies that like to experience it all in life.  It seems that I have a tendancy not to settle for the beaten track no how matter how hard I try, but I don't try that hard.  I had many things in mind when it comes to Australia, the venemous and deadly you-name-its, the vast and prickly deserts, the majestic reef, and some beach combing Santas.  In case you've been thrown for a loop now, let me add that it is summer here in Australia during Christmas time.
I was volunteering with a family in Perth.  They welcomed me with open arms and made me feel like family.  It felt good.  A drastic contrast to the month I spent in the barracks working in the vineyard.  I enjoyed living with The Nelsons.  Perhaps a little too much.  I could have easily stayed with them for the remainder of my visa.  When I had spoke with my Mother about visiting during the holidays I realised that they were soon approaching, and with that, I decided it was time to leave The Nelsons.  I said I would wait for my new bank account debit card and an external hard drive to arrive to me.  When those two items arrived I would leave.  The debit card came on that Tuesday, the hard drive on that Thursday.  I left that Friday.
We pulled up to the lookout from the mountain in Kalamunda.  I had been wanting to see the sun set from the mountain.  Perth is on the west coast, and the mountain provides a picture-esque view of the city from above.  What a perfect place to see a sunset, however we wouldn't see it on that day.  We missed it by several minutes and as I watched the remaining glow of the day fade away from the hilltop I said to The Nelsons that we have plenty of time.  I would see it another day, but I would soon be reminded that time is not always on our side.  On Thursday morning I told Diane Nelson that I had a dream about a sunset.  I explained that my dream had me working on a movie set where I was in a house trying to take a picture of a woman who stood by the window as the sun was setting.  The camera flash kept going off in this dream movie production and it was ruining my shot.  I was never able to get the picture of the woman basked brilliantly in the glow of the setting sun.  "You had better go see that sun set tonight" Diane told me.  I knew she was right.  That night I walked down the roads of the mountain to the look out to see the sun set.  On the way down I received a phone call.
I had gone online that Thursday to see if there were any travellers looking to fill some seats for a road trip across the desert.  I responded to four or five advertisements.  The first call I received was from a girl named Julie.  Julie informed me that they did in fact have a seat available, but with a catch, they were leaving the following morning.  As I spoke with Julie from the top of that mountain in Kalamunda the sun began to set.  Diane really was right, I had better of gone to see that sunset, because unbeknownst to me that would be my last name in Perth.  The next morning I was in a car.  There was myself and three people I had never met before.  The destination was the other side of the country.  We were heading north.  The road trip was approximately two weeks.  Instead of describing our little adventure I have decided to share some photos instead.  I hope you enjoy them.