On Wednesday 10 October, The West Australian Good Food Guide (WAGFG) and Winning Appliances teamed up to showcase some of Perth's best chefs, who worked their magic using state-of-the-art kitchen appliances. Winning Appliances flagship showroom in Osborne Park was transformed for one night into a bar, complete with a premium grazing table by Graze Perth, a freshly-shucked oyster station, and wine tastings from McHenry Hohnen wines.
Upon entry, this gorgeous grazing table kept calling my name. Aside from the highly pleasing and trendy marble aesthetic, Sherin Pourzand at Graze Perth featured fantastic WA products from Linley Valley Pork and Poach Pear that was bound to be excellent.
Once everyone had gotten comfortable with a glass of bubbly in hand, Rob Broadfield from The West Australian and Rick Hart, brand ambassador for Winning Appliances, came up to address the crowd and announce the five chefs who will be serving up a champion canape each. Guests were provided with a voting card to go towards their favourite canape who will be announced on the night. One lucky voter would even have the opportunity to claim $1000 worth of kitchen accessories door prize, too!
McHenry Hohnen wines were available for tasting on the night, offering guests the opportunity to sample some excellent Margaret River wine. The wines produced by McHenry Hohnen had a true focus on the high quality grapes.
First up! These bright little rolls made by The Standard's Chase Weber were a hit: hot and sour duck salad wrapped in a turmeric wafer, covered in tamarind sauce and topped with roasted peanuts. Comfortingly familiar to me, these Asian-inspired canapes resembled Vietnamese banh cuon to the eye as the tamarind wafer was softer and bouncier, akin to the steamed rice flour crepe rolls, and banh xeo in the mouth with the familiar flavours of sour, sweet and fresh herbs.
We made our way around the back of the showroom to where chefs Scott Bridger from Bib & Tucker and Mario Di Natale from Garum were diligently preparing their own savoury sensations.
Chef Scott delivered a gorgeous canape featuring fresh, creamy Shark Bay crab, topped with koji pickle and borage on top of a puffed seaweed tapioca cracker. Personally, this was my pick of the night!
Meanwhile, Chef Mario di Natale from Garum was rolling out handmade Creste di Gallo pasta covered luxuriously in a burnt butter and sage sauce and parmesan. Filled with ricotta and silverbeet, the Creste di Gallo were shaped to resemble the crest of a rooster, hence the name.
Upstairs, Chefs Melissa Palinkas from Young George and Nic Wood from Santini Grill at QT Perth were busy whipping up a storm. Chef Melissa was delighting vegetarians (and non-vegetarians alike) with her crispy cauliflower karaage dish, topped with spicy pickled ginger and on a bed of creamy horseradish. Chef Nic popped his Abrolhos Island scallops on the pan to sear, which were later going to be topped with artichoke, samphire, apple and crushed hazelnut.
These satisfyingly crunchy florets of cauliflower matched perfectly with the velvety-soft horseradish.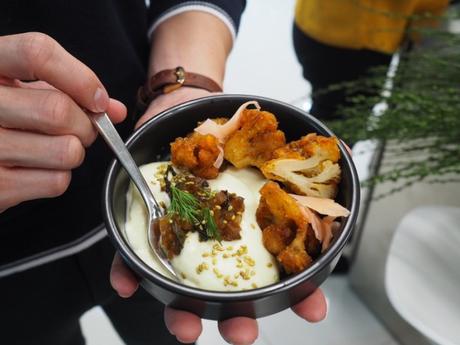 It was hard to pick only one winner, as every canape was unarguably delicious and had us coming back for more. The standout for me was Scott Bridger's Shark Bay crab canape, while my friend voted for Mario Di Natale's impeccably al dente Cresto di Gallo pasta. After the count, the canape king was crowned: Chase Weber from The Standard and his hot and sour duck salad turmeric wraps!
Thank you to The West Australian Good Food Guide and Winning Appliances for putting on a fabulous event that spectacularly highlighted the best of what WA has to offer!