In my last few weeks at the day job, I was madly scheduling in lunch visits to all my favourite Perth CBD eats and drinking as much Lowdown Espresso coffee as possible. These were my favourite Perth CBD eats which I'm missing already:
Breakfast – daily breakfast cups at @Panache and Vegemite rolls from City Provisions
Lunch (there's a few)

Mama Tran's bo kho (spiced beef stew) Friday special
Kao San's pad thai and signature fried rice
Roast beef gravy roll from Paul's 4 Provisions
Jun's lunch teriyaki chicken set
Newton Circle's ho fun
Nao's ramen

Quick drink after work – The George
Friday night out – Wolf Lane
No surprises, I've lost a few kilos since leaving the day job and it's been just under two weeks!
Besides missing all the Perth CBD eats, one of my most talked about dilemmas in the weeks leading up to my last day was what to wear! I had meetings lined up for my first week of the new "job" but knew I wouldn't look the part in Mount Lawley with my existing corporate wardrobe. So I went to fellow Perth fashion & lifestyle blogger Karen Cheng and my trendy friend who owns Perth's EA Fashion Establishment for fashion tips on my new wardrobe.
This is Karen Cheng's shopping advice…
I'd buy a few items from "Tu Boutique" in Northbridge… it's got a hipster vibe, but still kind of polished, modern and sophisticated.
I guess if you want to shed the corporate look, stay away from taliored pieces like pencil skirts, blazers, jackets, pants, silk tops.
The "relaxed look" is very trendy – with basics such as black slouchy pants, ripped boyfriend jeans, skinny black jeans, grey marle tees, black graphic tee, checkered shirt, loose white tee, white tee with print.
But throw in a "trend" piece to make it look modern – metallic something (watch, sunnies, bag, t-shirt print), silver something (sandals, clutch, graphic print), neon something (print, bracelet, scarf, socks, clutch), something with black and white print.
Summer is coming so that's a bit tricky… I'm a big fan of a printed tee tucked into a circle skirt, or a line skirt with sandals and cool sunnies!
Try ombre hair colour! That's very Mount Lawley

So following Karen Cheng's fashion tips I went shopping last week, first stop was EA Fashion Establishments sample warehouse sale.
I picked up a pair of these slouchy Little Lies black pants for $33 which matches perfectly with my existing white tee featuring a black moose print.
I then went into the Perth CBD and after having lunch at Jun, picked up this silver Witchery clutch and of course I needed hipster shoes to match so I picked up these white loafers up from Nine West (my fav shoe place) on sale for $50 which I thought looked pretty hipster…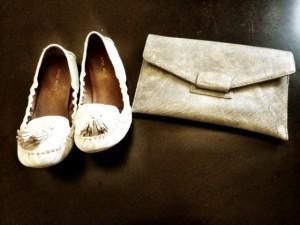 My silver clutch has since become a staple part of my new wardrobe

Using my farewell Myer gift voucher from the day job, I got these casual black sparkly sandals (not sure how hipster these are but they are comfortable!) and these Siren heels…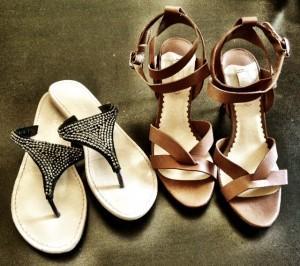 I'm sure I'd be able to find an old pair of jeans in my second wardrobe at my parent's place which I can turn into boyfriend jeans as per Karen's Boyfriend Jeans and Check post.
Round 2 of Fashion Establishment's warehouse sample sale is this Sunday and I'm super tempted to head back there super quickly before The Classroom's Eat Drink Blog 2013 Cocktail Masterclass.
If you're also need in a new look, EA Fashion Establishment's sample sale details is below…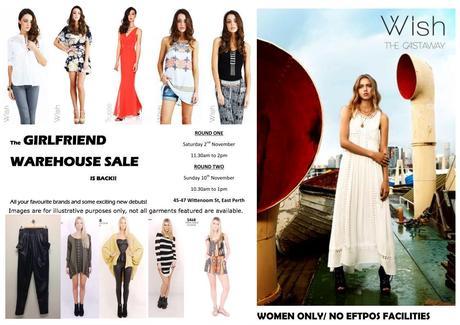 On the Christmas wish list this year to complete my outfit is a new pair of sunnies, watch, bags and more clothes! I hope burger boy and my family are reading this post