Dogma is a movie that many seminarians discover at some point in their theological education. Smart, funny, and irreverently reverent, the film follows the exploits of a couple of misled angels trying to get back into Heaven and thereby negating all of existence. It is no surprise, given Kevin Smith's origin myth, that the film opens and closes in New Jersey, but I often ponder the strange coincidence of places in the movie to places I've lived since my own seminary career began (and ended, rather like the massacre scene in Red Bank before God cleaned it all up). Nashotah House, where I discovered Dogma, is in Wisconsin. Wisconsin is the state to which Bartleby and Loki, the two angels, have been banished. The means of their escape from this upper-Midwest purgatory is a church in New Jersey. Along their way the angels pass through Illinois and Pittsburgh, before crossing into the very state where God is located throughout the movie (the Garden State, of course!). After having been summarily dismissed from my seminary post in Wisconsin (not for watching Dogma, I'm assured), I too headed for New Jersey. Before that I had lived for a while in Illinois (home of Bethany) and Pittsburgh (home of Moobie). Watching Dogma is in many ways a reflection of a journey that I've accidentally undertaken.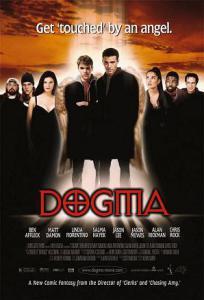 Another kind of dogma seems to be at work in the Eagle Mountain International Church in Newark, Texas. The Associated Press announced that 21 cases of childhood measles had broken out in the church, particularly among the homeschooled and unvaccinated. Fears of inoculating against a pre-medieval faith have led many of those who trust their own knowledge above that of the collective specializations of educators, to put their children at risk for the sake of belief. The belief, perhaps unsurprisingly, is poorly informed. One of the pastors of EMIC (!) has been encouraging vaccination as biblically sanctioned. If not for the sake of your children, for the sake of the scriptures…
Vaccination, in various forms, was developed in both Christian and pagan contexts. The earliest examples come from Asia where the plagues sent by the devil were resisted with human ingenuity. It takes a paranoid twenty-first century, first-world faith to suppose saving our children is some kind of conspiracy. "Let the one without germs," we can almost hear them say, "throw their tissues away first." In my Pittsburgh days, I was very much a literalist. How surprised I was to see Lady Aberlin from Mister Roger's Neighborhood playing an angst-ridden nun, derailed by an exegesis of "The Walrus and the Carpenter" in Dogma. Although the Neighborhood is "anytown" those of us locals knew that Fred Rogers was from Pittsburgh. Lady Betty Aberlin was the niece of King Friday XIII, and only those with no conspiratorial imagination would suggest it is merely coincidence that her cousin is named Kevin. With or without dogma.