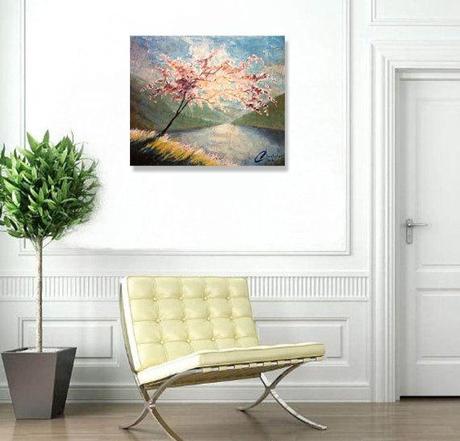 The best way to add beauty, personality, and imagination to your home is by giving your walls a little transformation with original artwork. There is nothing else that has quite the same impact as a painting that manages to capture all of the feelings and emotions that are important to you without using a single word. I know, it sounds fancy, extravagant and out of reach, but you may be surprised. You don't need millions of dollars to have a few well-selected pieces of art that bring you joy and inspiration. You also don't have to walk into an intimidating gallery to try to find a piece you love. I found these stunning pieces on Etsy.com while searching for original paintings. On Etsy, you buy directly from the artist, so you know exactly where it's coming from. Plus, most of them will take commissions, so if you like an artist's style, but you don't see a piece that's exactly the subject or colors that you want, they will paint a custom piece just for you.
Here are a few of my favorites: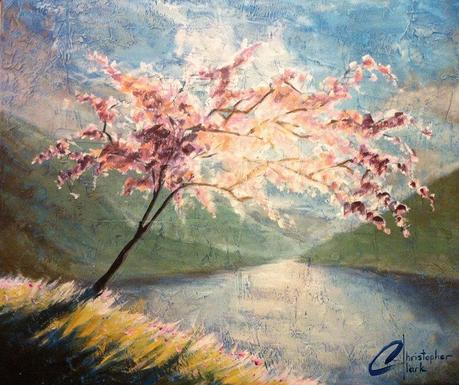 "Cherry Blossom by the Lake"
Christopher Clark
There is something so serene and calming about this piece by Christopher Clark. Chris says that he got his first taste of art from Bob Ross, and I can definitely see the influence in the "happy little tree" in his painting  "Cherry Blossom by the Lake".
---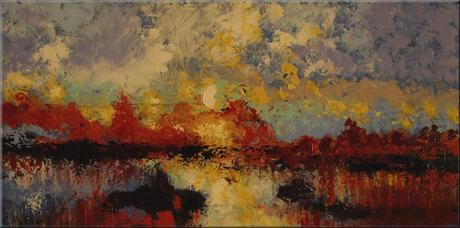 "Revelation"
Claire McElveen
I am a big fan of abstract landscapes, and Catherine Claire McElveen did such a beautiful job of capturing the colors and mood of a perfect sunset in "Revelation".
---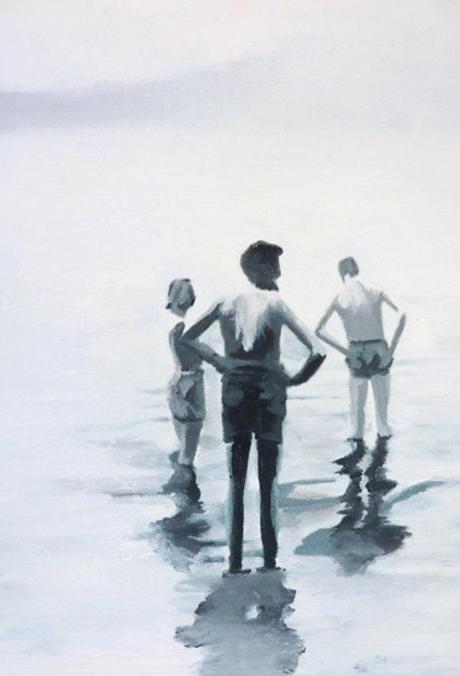 "Lake Days"
Kiki & Polly
Wasting the day away at the lake is never a waste. This tranquil scene in "Lake Days" from Lisa Golightly of Kiki & Polly is an ode to those well-spent endless days.
---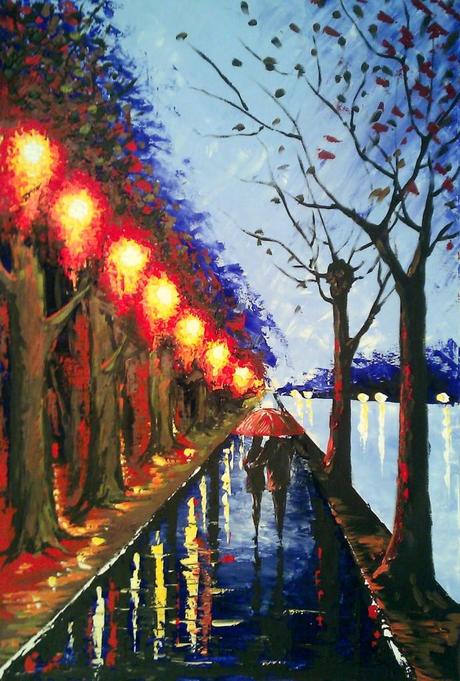 "Red Umbrella"
Elizabeth Hristova
Is there anything more romantic than a walk in the rain, where no one else in the world exists besides you and the one you love?  Elizabeth Hristova illustrates this perfect moment in "Red Umbrella".
---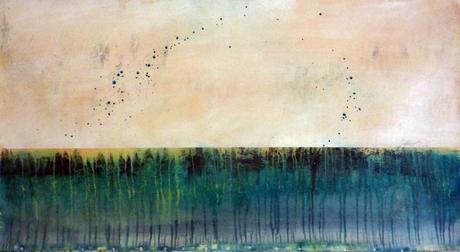 "Hindsight"
Jaime Watson
I love how the luminosity of the neutral colors stands out over the deep, rich shades below in "Hindsight" by Jaime Watson. It feels like you could just walk in and get lost in it for a while.
---
Are you as enamored as I am? Then it's time to embrace your new persona as an art collector.