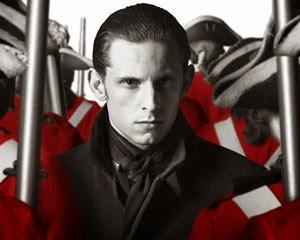 Jamie Bell as Abraham Woodhull
AMC Turn
This was an amazing series! The season finale was broadcast last Sunday 8 June, with an amazing
crescendo
of emotions but no news of a second series.  I think this story deserves a second season, I would be more than disappointed if it didn't get it. An excellent historical fiction drama series,  starring a blend of great British and US actors,
TURN 
is a period piece that reveals the story of America's first spy ring. 
A historical thriller set during the Revolutionary War, this TV show is based on Alexander Rose's book Washington's Spies. It was developed and written by Craig Silverstein (Nikita), who also serves as showrunner. It stars, among others, Jamie Bell (Filth, Jane Eyre, Nicholas Nickleby, Billy Elliot) , J. J. Feild (Northanger Abbey, Austenland, The Ruby in the Smoke), Seth Numrich (The Good Wife) and Heather Lind (Boardwalk Empire).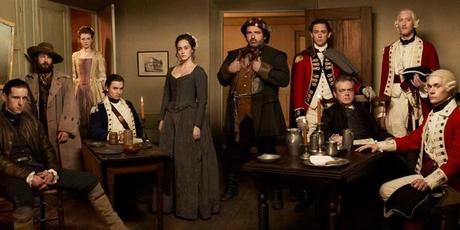 The Culper Spy Ring
When General George Washington beat a hasty retreat from New York City in August 1776, many assumed the American Revolution was over. Realizing he could never beat the British military with might alone, Washington instead turned to a network of spies to out-maneuver his opponents. Tapping previously unpublished research uncover the gripping history of six amazing Patriots -- dubbed by George Washington the Culper Spy Ring -- who risked their lives for the freedom of their nation.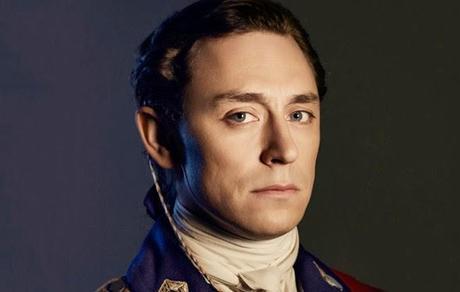 J.J. Feild as Major John Andre
To know that the characters in this TV drama series are inspired to real historical figures,  remained unknown so far, makes everyhting even more thrilling. I was totally blown away by the extraordinariness and at the same time ordinariness of these people turned into main actors of key historical events. 
Jamie Bell's Abe is a perfect example of that: he is so vulnerable and torn, so definitely scared of violence and killing, so stubborn and passionate. He is fundamentally weak, unable to control his feelings, emotions and instincts. What -  I'd say -  will never make a good spy. But he will be just that: a farmer pulled into the revolutionary war against his will, turned into a good spy working to support general Washington's cause. 
The cast
Seth Numrich is Ben Tallmage, a childhood friend of Abe's, and a Continental Dragoon in Washington's Army; Heather Lind is Anna Strong, Abe's former fiancée who has been friends with Abe, Caleb and Ben since childhood; Caleb Brewster, interpreted by Daniel Henshall, is the fourth friend in the Ring, now a Patriot courier,  loyal fighting mate to Ben Tallmage. 
Samuel Roukin
 is scarily crazy Captain Simcoe and
J. J. Feild
 is Major Andre, the charming, cunning and experienced Head of His Majesty's Intelligence.  
In the cast also Kevin MacNally as Judge Richard Woodhull, Abe's father; Burn Gorman as Major Hewlett, Meegan Warner as Mary Woodhull, Abe's wife. 
War & Love
War is the main theme of course, but there's space for some love and romance,  too. In the inevitably foreseeable love triangle, it's easy to sympathize with Abe and his feelings for Anna Strong. Their dreams were shattered by Abe's sense of duty and guilt. A few years before, when his brother Thomas died,  he decided to break with Anna and marry his brother's fiancé, Mary, in order  to honor his family's commitment with the girl's family. Abe strives to be a good husband and a good father, trying to forget Anna and to deny his feelings for her. And Anna, after all,  is now married to Selah Strong. 
However,  after what happened in the final episode,  we can admire Mary's strength too. Abe owes his wife much now and she has increased her power on him...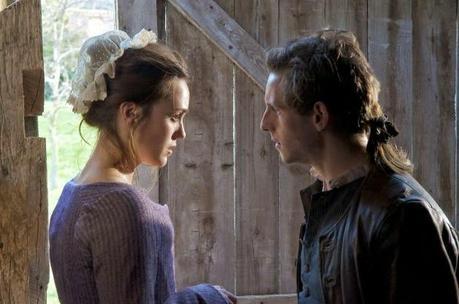 Abe and Anna
Looking forward to a public announcement, AMC: we definitely want a season two!  
Visit Turn Official Site
for more info, videos, cast nterviews, full episodes