Tea is the perfect beverage because it's just as delicious whether it's served hot or cold. It keeps us warm on cold winter days and cools us off on hot summer days. And there's a variety of tea for every taste, whether it's black, green or herbal! This summer has been extremely hot in south Florida, so I'm really glad I discovered the iced teas from Adagio Teas! Tea has never been easier to make, nor more delicious to drink. This brief video explains what I mean: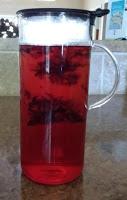 When I first saw this video, I thought, This is too good to be true! I have to try this for myself! So, I went to Adagio.com and purchased some Wild Strawberry Iced Tea and some Berry Blast Iced Tea, along with Adagio's glass pitcher, which is the perfect size for making iced tea with Adagio's special tea pouches. I placed one of the pouches in the pitcher, filled it with cold water, and put it in the refrigerator for several hours. (See picture at right.) Then I poured myself a glass of the best tea I've ever had! It was so refreshing and tasty. My husband loves it so much that he's been making pitcher after pitcher of tea. We'll have to place another order soon!
And the prices at Adagio Teas are incredibly affordable. The 40-ounce pitcher is only $19! (Of course, you can make tea in your own pitcher, too.) The iced tea pouches are only $24 for 25 pouches -- that's less than $1 per pitcher! And I was so thrilled with my new iced-tea obsession that I even bought some adorable little tea glasses on their site -- only $19 for 6 glasses!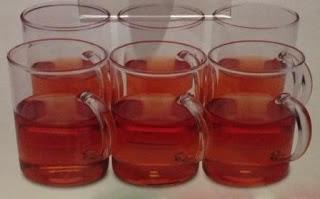 I hope you'll look around the Adagio Teas website because they have so many wonderful things to choose from. You'll find iced teas (Black, White, Oolong, Green, Herbal, and Chai), hot teas (too many varieties to list here!), teaware, gift sets, snacks (like tea cookies and chocolate), and you can even create your own blend! You can buy as you go or sign up for a subscription. There's even a Tea of the Month Club! (I think my mother-in-law will be getting that for her upcoming birthday.)
Honestly, I always considered myself more of a coffee drinker -- until I discovered Adagio Teas. Now I'm crazy about tea, and I can't wait to try all of the different varieties from Adagio Teas. I hope you'll join me!
Website: www.adagio.com/
Facebook: www.facebook.com/AdagioTeas/
Twitter: twitter.com/adagioteas
Pinterest: www.pinterest.com/adagioteas/
Instagram: www.instagram.com/adagioteas/
YouTube: www.youtube.com/adagioteas

Disclosure: I received a gift card from Adagio Teas to facilitate the purchase of products for review. All opinions are 100% my own.