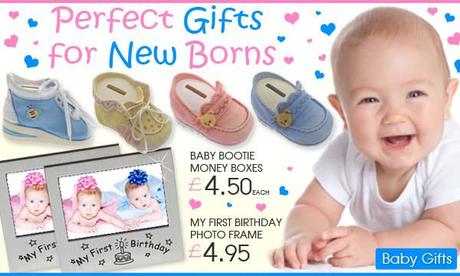 Did you know we've got a range of gifts for a newborn baby? It's not really a surprise really, considering the amount of products we have for baby showers and 1st birthdays.
If you want to encourage good spending habits from a young age, our collection of baby bootie money boxes are a thoughtful gesture. Classic parents might appreciate the pink or blue shoes, decorated with a cuddly teddy bear. Trend-loving parents might prefer the blue trainer version, or the vintage-inspired yellow frilly pair.
The money boxes are priced at just £4.50. Don't forget to pop a little money in there, for luck and to get them started!
Your other option is to gift them with a beautiful brushed silver photo frame, to display a snapshop of them at their cutest. We've got one that's particularly good for a first birthday, and it's a bargain at only £4.95
Don't forget, if you're thinking of Christening the baby, we've got a huge range of products, covering catering and decorating options. We've got pink options for little girls, and blue options for little boys and you can decide how religious you would like the material to be.
View our full party range!