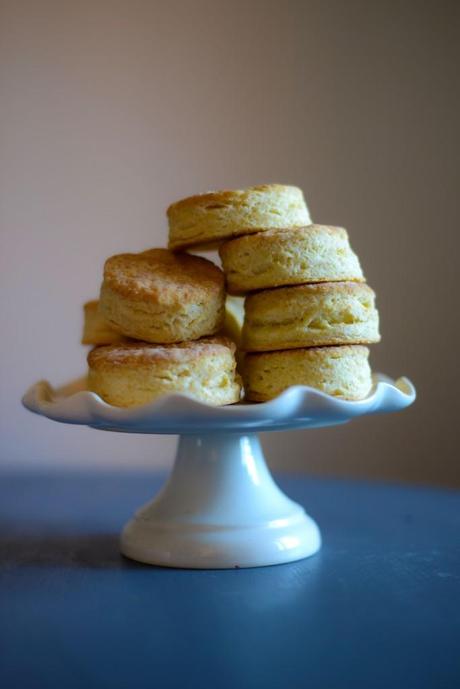 Despite spending my first decade in the south, I didn't grow up eating biscuits. My husband, however, did. And so as we near our FIVE year wedding anniversary, I'm baking a few of his favorite eats. And even though I don't have memories of my five-year-old self running down the stairs to slather butter and jam on biscuits just pulled from the oven, my twenty-seven-year-old-self now thinks that image is pretty close to heaven. In fact, I don't think there's much that a warm biscuit can't fix. It certainly made the end of a very busy week a whole lot better.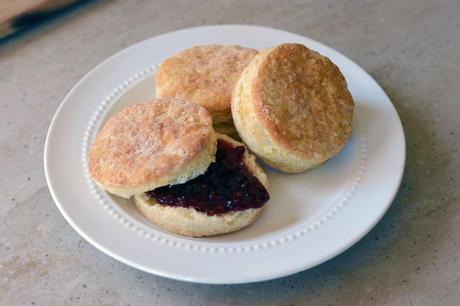 Last night, after we finally put Lucy down to sleep, I made these: my perfect biscuits. One of my favorite bloggers, Marta, just returned from her adventures in Japan. If you haven't visited her blog, What Should I Have For Breakfast Today. You should. When I saw a long-awaited post from her last night, I knew breakfast was in order. I've tried a lot of recipes over the years, but this Cooks Illustrated version produced the best results. Flaky, buttery, mile-high biscuits. Now….imagine these with butter, a spoonful of honey held over top. Or, perhaps, you like your biscuits with scrambled eggs and gravy. The good news is that one of these perfect biscuits, just enjoyed on its own, is out-of-this-world-amazing. My biscuit loving husband would know. So do what you like with them. You can't go wrong.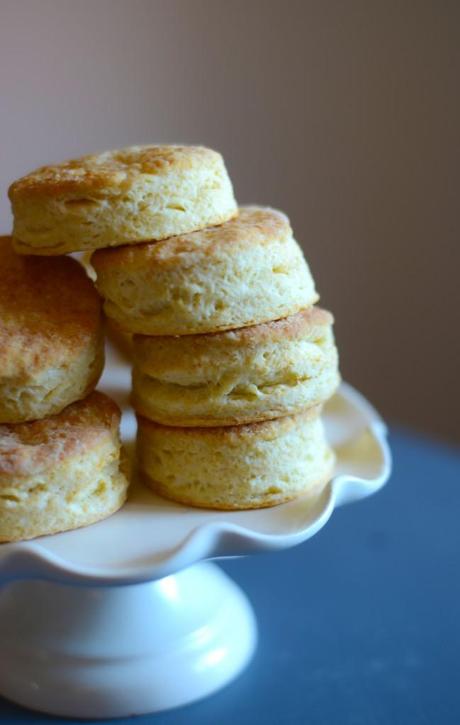 Perfect Biscuits
2 1/2 cups (12 1/2 ounces) all-purpose flour, plus additions for work surface
1 tablespoon baking powder
1/2 teaspoon baking soda
1 teaspoon table salt
2 tablespoons vegetable shortening, cut into 1/2 inch chunks
8 tablespoons (1 stick) cold unsalted butter, lightly floured and cut into 1/8-inch slices, plus 2 tablespoons melted
1 1/4 cups cold low fat buttermilk
Adjust oven rack to lower-middle position; heat to 450-degrees. Whisk flour, baking powder, baking soda and salt in a large bowl.
Add shortening to flour mixture; break up chunks with fingers until only small, pea sized pieces remain. Working in batches, drop butter slices into flour mixture and toss to coat; pick up each slice of butter and press between floured finger tips into flat, nickel-sized pieces. (Meg note: the butter just wanted to break into little pieces when I pressed between my fingers. I found that placing the butter in the palm of one hand and using the heel of my other hand I pressed and smeared the butter into thin shards, then tossed them into the flour, gently mixing everything together with my fingertips.) Repeat until all butter incorporated; toss to combine. Freeze mixture in bowl until chilled, about 15 minutes.
Spray a 24-inch-square area of work surface with nonstick cooking spray; using a paper towel spread the spray evenly across the work surface. Sprinkle 1/3 cup of extra flour across sprayed area; gently spread flour across work surface with palm to form thin, even coating. Add all but 2 tablespoons of buttermilk to flour mixture; stir briskly with fork until ball forms and no dry bits of flour are visible. adding remaining buttermilk as needed (dough will be sticky and shaggy but should clear sides of bowl.) With rubber spatula, transfer dough onto center of prepared work surface, dust surface lightly with flour, and, with floured hands, bring dough together into cohesive ball.
Pat dough into approximate 10-inch square; roll into 18 by 14-inch rectangle about 1/40inch thick, dusting dough and rolling pin with flour as needed. Using a bench scraper or thin metal spatula, take the top edge of dough and fold it down until the edge reaches the middle of the rectangle. Fold the bottom edge upward until the edge meets the top edge, ultimately folding your dough into thirds. Brush any extra flour from surface. Now take the left edge of dough and fold in toward the center. Take the right edge and fold over to the other edge of dough, again folding into thirds. Your rectangle should approximately be 6 by 4-inches. Rotate dough 90-degrees, dusting work surface underneath with flour; roll and fold dough into thirds again, dusting with flour as needed.
Roll dough into 10-inch square about 1/2-inch thick; flip dough and cut nine 3-inch rounds with a floured biscuit cutter, dipping cutter back into flour after each cut. Carefully invert and transfer rounds to a baking sheet, spaced 1-inch apart. Gather dough scraps into ball; roll and fold once or twice until scraps form smooth dough. roll dough into 1/2-inch-thick round; cut three more 3-inch rounds and transfer to baking sheet. Discard extra dough.
Brush biscuits with melted butter. Bake without opening oven door, until tops are golden brown and crisp, 15 to 17 minutes. Let cool slightly then serve with butter and honey.
Freezer Directions: Place raw cut biscuits on a parchment lined baking sheet and place in freezer until hard. Store in zip-lock bag. When ready to bake, place frozen biscuits on a parchment lined baking sheet and bake for about 20 minutes or until golden brown.