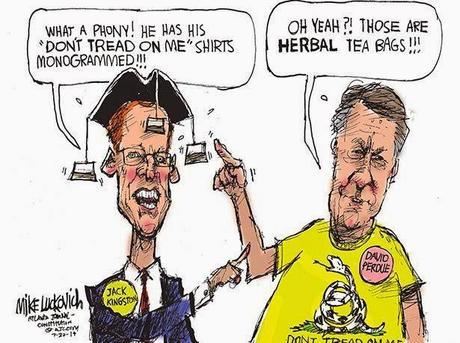 (This cartoon image is by Mike Luckovich in the Atlanta Journal-Constitution.)
David Perdue and Jack Kingston have been trying for months to show the GOP base that they are the authentic teabagger in the race, and the other was just a poser -- and it looks like they were both successful to a certain extent, because the primary run-off was extremely close. But after all the votes were counted, Perdue squeaked out a win and is now the GOP's official candidate for the vacant Senate seat. Here are the final results:
David Perdue...............245,493 (50.9%)
Jack Kingston...............236,985 (49.1%)
Now the real campaign can begin, and amazingly, Perdue finds himself behind the Democratic candidate, Michelle Nunn (daughter of former Georgia Senator Sam Nunn). The Landmark Communications Poll (done on July 16th of 1,720 likely Georgia voters) shows that Nunn currently has a 6 point lead over Perdue (but Georgia Republicans may have made the right choice, since that same poll showed Nunn leading Kingston by an 8 point margin).
There's still a little over three months before the general election though, and that 6 point lead is not insurmountable. But several months ago the pundits were all predicting this would be a fairly easy Republican victory. Now it looks like the Democrats have a real chance to flip this seat -- and that would put a real crimp in GOp efforts to win control of the Senate.