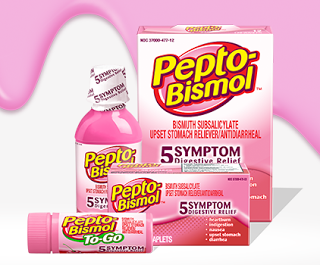 I'm the kind of person who has a nervous stomach. When I'm dreading something or anxious about my day, it usually shows up with an upset tummy. That's why I make sure that I always have Pepto-Bismol on hand. I have been using it for years, and it really works miracles for me in calming down my stomach and enabling me to function productively. That's why it was a no-brainer when Smiley Blogger Circle gave me the opportunity to write about Pepto-Bismol. I'm a huge fan!
My husband has also jumped on the Pepto-Bismol bandwagon. He doesn't get a nervous stomach like I do, but he often suffers from heartburn and indigestion. The "pink stuff" helps with that, too, and it works quickly. I even get the kids' version of Pepto-Bismol for my 12-year-old boys. Sometimes, kids get diarrhea, and Pepto-Bismol really helps them find relief. And they love the taste of the chewable tablets, so I get no arguments when they're advised to take it.
I really like that Pepto-Bismol comes in many forms. I love the original liquid form, while my husband prefers the cherry-flavored liquid. I carry the Chewables or a To-Go container in my purse so that I always have Pepto-Bismol with me when I'm away from home. And, as I said above, my boys love the kids' chewable Pepto-Bismol. You can get swallowable caplets, too.
Pepto-Bismol is an absolute must-have in our home. I make sure that we never run out of it! Visit www.pepto-bismol.com to learn how this product can help your family with their tummy troubles. You can even find Pepto-Bismol coupons on their website.
Pepto-Bismol Online:
Website: www.pepto-bismol.com
Twitter: @Pepto
Facebook: www.facebook.com/peptobismol
YouTube: www.youtube.com/user/peptobismol

Disclosure: I received this product for free from Smiley360 in exchange for my honest review. You can join Smiley360 here!