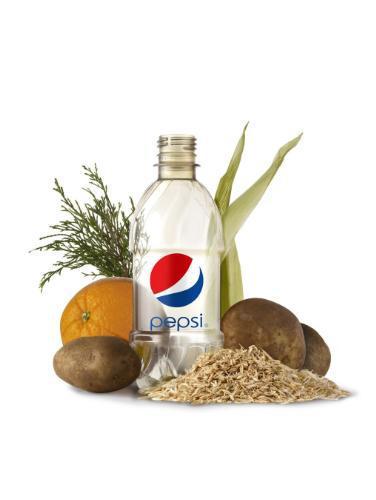 Trying to stake a key environmental claim before main competitor Coca-Cola in the cut throat beverage industry, PepsiCo recently announced a 100 percent recyclable "green" bottle made from "bio-based raw materials, including switch grass, pine bark and corn husks. In the future, the company expects to broaden the renewable sources used to create the 'green' bottle to include orange peels, potato peels, oat hulls and other agricultural byproducts from its foods business."
Other plant-based plastics are available or under development but they tend to use plants grown solely for that purpose and most of those alternative plastics can't be recycled. The more environmental solution is to use byproducts from food business activities like PepsiCo is planning. There is an estimated 2 billion tons of agricultural waste produced each year. PepsiCo Chairman and CEO Indra Nooyi remarked, "PepsiCo is in a unique position, as one of the world's largest food and beverage businesses, to ultimately source agricultural byproducts from our foods business to manufacture a more environmentally-preferable bottle for our beverages business – a sustainable business model that we believe brings to life the essence of Performance with Purpose."
Using biological and chemical processes in tandem, the company has been able to create a molecular structure that is identical to that of PET (polyethylene terephthalate) bottles which are petroleum based. The resulting bottle is therefore the same as current PET bottles in look, feel and ability to protect the product. Should the pilot production run scheduled for 2012 be successful, the company will move to full-scale commercialization.
Coca-Cola has apparently scaled up use of its own plant-based bottle since introducing it in 2009. It has demonstrated a 100 percent plant bottle in the lab but is still working to ensure its commercial viability.
It's nice to see that in at least some aspects, the competition between companies and within the free market system can actually produce results and advances that bode well for our shift to sustainability.