Tweet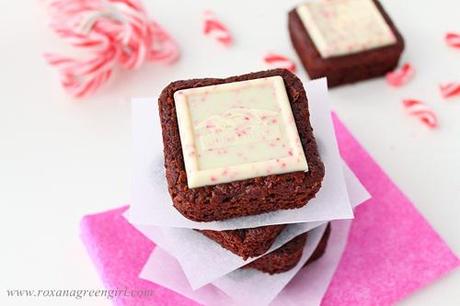 I try to stay away from forbidden foods, believe me, I try. But, I have weaknesses. I love rich Christmas desserts. I'm already dreaming on a traditional Romania cinnamon swirl bread, it calls for 6 egg yolks. 6 egg yolks! My cholesterol level is gonna rich the sky. Oh, but it's so worth it.  I'll definitely have to buy some eggs and make at least one bread. I don't remember a Christmas without the cinnamon swirl bread and I plan on keeping in that way.  There are also other desserts that make my heart beat like crazy. Gingercakes, anyone? Peppermint bark, yes please!! Candy canes, bring them on!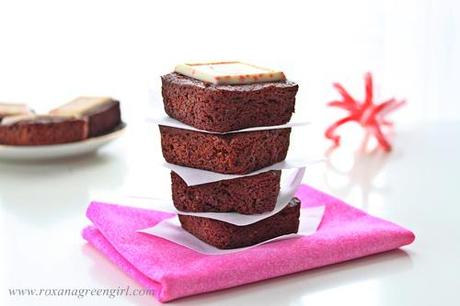 When baking I have to keep in mind my cholesterol level so I do my best to keep it low. These cakes are vegan, if you decide to top them with some peppermint bark, well, not anymore. Although the recipe I got inspired from called them brownies, I find the texture resembling more towards a cake. They are light, sweet and spicy and the peppermint bark on top makes a perfect pair. They are easy to make, all you have to do is mix the dry ingredients in one bowl and the wet in another and then mix together.   To bake them I used a square brownie pan, like this one. I pour some of the mixture into all the 12 square cups. Now, that I know how they turn out, I think making just 10 would be my preference. Don't get me wrong. I loved these cakes, but maybe a little thicker, just a little bit. They don't rise much while baking, so filling the cups is not going to overflow the mixture while in the oven.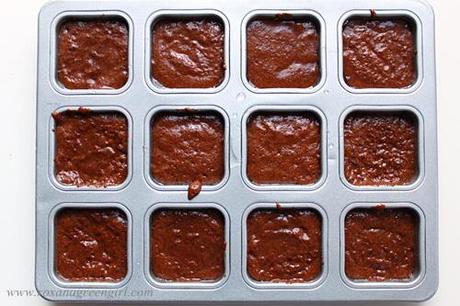 If you don't have a square brownie pan, you can use a 9 X 9 inch pan and cut squares when slightly cooled. You could also use a cupcake pan. Top with some peppermint bark when almost cooled (don't put the bark on when they are still hot, or you'll end up with some melted chocolate)
Peppermint Bark Cakes adapted from Healthful Pursuit
Ingredients
1 cup gluten free all purpose flour 1/4 cup cocoa 1/4 cup flaxseed flour 1 tsp gluten free baking powder 1 tsp ground ginger pinch of salt
1/3 cup pomegranate molasses 1/4 cup sugar in the raw 1/4 cup almond milk 1/4 cup grapeseed oil 1/4 cup applesauce
peppermint bark squares
Directions
Preheat the oven to 350F. Oil the baking pan or line with parchment paper or paper liners. In a bowl mix together the all purpose flour, cocoa, flaxseed flour, baking powder, ground ginger and salt. Set aside. In another bowl mix the pomegranate molasses, sugar in the raw, almond milk, grapeseed oil, applesauce. Pour the wet ingredients into the dry ones and mix until just combined. Spoon the mixture into the prepared baking pan and bake for about 20-25 minutes,  depending on what type of pan you're using, or until a toothpick comes out clean and the cakes are slightly risen. Let the cool before topping with peppermint bark, if using.